PUNJAB

HARYANA

JAMMU & KASHMIR

HIMACHAL

REGIONAL BRIEFS

NATION

OPINIONS

MAILBAG

BUSINESS

SPORTS

WORLD
Saturday, April 2, 2005, Chandigarh, India
Updated at 3:00 am (IST)
SPORTS UPDATE


India crush Pakistan in first one-dayer (update: 9 pm)
---
PM open to talks with Musharraf
Port Louis (Mauritius), April 1
The Prime Minister, Dr Manmohan Singh, said here today that it was the solemn obligation of India and Pakistan to ensure the safety and security of the passengers travelling on the Srinagar-Muzaffarabad bus.



Pak says no to J&K politicians on Muzaffarabad bus


Nation: Tighten security for Muzaffarabad bus: Patil


J&K page: Will bus service impact Kashmir issue?


Muzaffarabad-bound couple get death threat




Mauritius and India move towards free trade pact. (28k, 56k)

ďI bow my head in homage to those who climbed these steps in the centuries gone by, and through their toil created a jewel in the ocean ó Mauritius, that shines brighter today and will shine even brighter in the years to comeĒ, wrote Prime Minister Manmohan Singh in the visitorís book at the Aapravasi Ghat, where 4 lakh indentured labourers, mostly from India, first landed on Mauritian shores between 1849 and 1910.
ó Tribune photo
by A.J. Philip

CAST YOUR VOTE
Do you feel that many ministers go on purposeless junkets abroad?


FORUM

EDUCATION

JOBS & CAREERS

HEALTH & FITNESS

SCIENCE & TECHNOLOGY

SPORTS

SOCIETY

TRIBUNE CLASSIFIEDS

BRIDES WANTED

GROOMS WANTED

OTHERS

HOW TO PLACE ADVTS
19 devotees die in Beas accident
Beas, April 1
At least 19 devotees who were on way to Dera Baba Jaimal Singh, Beas, were killed and 41 others were injured in a head-on-collision between a Swaraj Mazda and a truck near Dera Beas on the Amritsar-Jalandhar GT Road this morning.

Pope appears close to death


Vatican City, April 1
Pope John Paul appeared close to death on Friday after heart failure and breathing problems, but was still conscious and in a stable but serious condition at midday, the Vatican said.


Mother Teresa's missionaries pray for severely ill Pope. (28k, 56k)



Catholics hold special prayers for Popeís recovery


World page: Cardinals run the Vatican
Full coverage: India vs Pak

2005
QUOTE OF THE DAY
I am once again renewing my call to JD(U) to sever its ties with the BJP for formation of a government in Bihar. LJP will support it.
ó Ram Vilas Paswan

THE TRIBUNE MAGAZINES
On Sundays

On Saturdays

Tearful adieu to O.P. Jindal
Hisar, April 1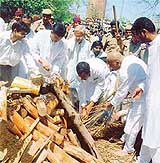 Tens of thousands of people bade a tearful adieu to the noted industrialist and Haryana Power Minister Om Prakash Jindal who was killed in a helicopter crash near Saharanpur yesterday.

Haryana Power Minister and steel baron O.P. Jindalís eldest son Prithvi Raj lights his fatherís pyre in Hisar on Friday. ó Photo by Mehta

Surenderís body consigned to flames
Bhiwani, April 1
The mortal remains of Agriculture Minister Surender Singh were consigned to the flames at his ancestral village Golagarh, near here, today with full state honours.



Haryana page: Who will carry forward Bansi Lalís legacy?


People throng the cremation ground at Golagarh village during the cremation of Surender Singh, Agriculture Minister of Haryana, on Friday.
ó Tribune photo by Pradeep Tewari

20 states switch over to VAT
New Delhi, April 1
As many as 20 states today switched over to the Value Added Tax system, setting in motion a major tax reforms initiative that would significantly change the taxation structure in the country. (Details on Nation page)


India launches VAT despite noisy protests. (28k, 56k)



Jindal, Surender Singh die in copter crash
April 1, 2005

Tradersí strike almost total
March 31, 2005

2,000 feared dead in quake
March 30, 2005
Pak to buy 70 F-16s
March 29, 2005

20 battalions to curb influx of Maoists
March 28, 2005

Pak to get F16s, Bush tells PM
March 26, 2005
21 states agree to implement Vat
March 25, 2005
Kashmir issue can stall peace process: Pervez
March 24, 2005
Punjab proposes cess on diesel, petrol
March 23, 2005
Kalam calls for politics of development
March 22, 2005