You are your ringtone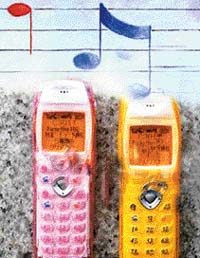 Whether you have Beethoven's Fur Elise as your ringtone or a more hip techno one, it speaks volumes to your personality, if a new research is to be believed.
According to The Age, a new research carried out by Tesco Mobile on 1000 people suggests that men with rude or animal sounds, especially the popular Crazy Frog, indicate that they are little more than boys.
Those with the latest charts hit as their personalised tone are supposed to be unreliable, while people who opt for the old fashioned ring tone come across as pretentious.
Ageing rockers are believed to opt for polyphonic versions of My Generation and More Than a Feeling. If a mobile user has recordings of themselves, their partner or child, they be more than a little self-obsessed.
While standard tones could mean a lack of daring or even an aversion to technology. Twentyone per cent of those questioned thought having a standard ring tone was "uncool". And, 25 per cent said the first thing they did on acquiring a new phone was to personalise the ring tone. Sixtysix per cent had got so annoyed with someone else's choice of mobile tone that they had either switched off the phone or asked the owner to do so.
— ANI