Khushboo of Gulzar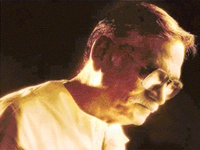 Poet, script writer, lyricist. Film director Gulzar, aka Sampuran Singh, is one of the most versatile artistes to leave his mark on cinema as well as literature. Winner of five National Awards and 17 Filmfare trophies besides the Sahitya Akademi Award and the Padma Bhushan, he opens up in an exclusive interview with V. Gangadhar

Inside 'Boskyana', Gulzar's bungalow at Pali Hill, a Mumbai suburb, the two dogs, 'Pali' the big bulldog, and 'Kalia' the smaller one, were friendly and frolicsome.

Amritsari kudi in LAHORE
Neelam Mansingh Chowdhry recounts her recent visit to Pakistan. Her theatre group The Company performed Sibo In Supermarket for the Ajoka theatre festival in Lahore
Just before leaving Chandigarh for the Wagah border, we were informed that the immigration papers had not yet reached the border post.

Anchors as partners
Most single men feel that women television news presenters can make ideal partners for them, according to a research.

A stormy year ahead
Sansar Chandra makes predictions for Samvatsara 2062
The Samvatsara year 2062 commences its journey at 2.50 a.m. during the night between April 8 and 9. However, according to a statutory mandate of our astrological code, the first bright lunar day of Chaitra (Shukla Pratipada) must touch the first rays of the sun to be designated as the Samvatsara Day.

Faith accompli
Shiv Kumar on the Goan festival in which Hindus and Christians pray together
Just 30-minutes away from the Calangute beach, a small hamlet in Siolim, Goa is struggling to maintain a centuries old tradition that enjoins Hindus and Catholics to salute Zagorio, the formless village deity.
He lived life to the full
R. C. Rajamani pays a tribute to Gemini Ganesan, the Tamil superstar whose real and reel life were both enthused with a free spirit
Gemini Ganesan, who died on March 22, was the last of the trinity of celluloid pantheon in Tamil Nadu, where cinema is nothing short of religion and stars no less than deities. The other two were M.G. Ramachandran and Sivaji Ganesan. The three dominated Kollywood from 1950's to 1980's.
Salute to the thespian
Dilip Kumar may well have retired from films, but his iconic appeal persists. The hero of such all-time hit as Mughal-e-Azam, Ganga-Jamuna and Sagina Mahato has been the subject of countless books over the years. And now a documentary is being made on him, by none other than Subhash Ghai.