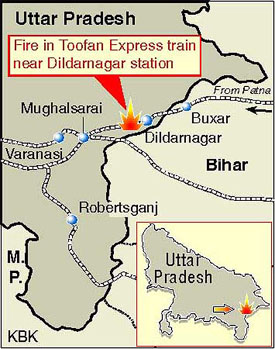 Mughalsarai (UP), April 4
More than 200 passengers of the Howrah-bound Toofan Express had a miraculous escape when five coaches of the train were gutted in a major fire near here this morning, a senior railway official said.
The train was between Darauli and Dildarnagar stations of the east central railway at about 7.30 am. when the fire broke out in one of the three-tier sleeper coaches, Mughalsarai Divisional Railway Manager Vijay Mohan said.
The blaze, which could have been caused by a spark from the stove of a tea vendor, soon engulfed four other coaches, including a first class one, gutting all five coaches before fire tenders arrived, he said.
All burnt coaches of the train were removed from the main line and stationed at spare tracks at Dildarnagar and Darauli stations, the DRM said.
The blaze was noticed by the driver of a goods train and he alerted the Toofan Mail driver who applied emergency brakes, he said.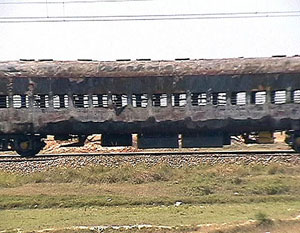 The burnt out compartments of the Howrah-bound Toofan Express stands sill near Dildarnagar on Monday. — PTI photo
An inquiry has been ordered into the incident, he said, adding that senior railway officials from both Gaya and Mughalsarai and a team of doctors along with relief van have arrived at the accident site to supervise the relief and rescue operations.
The traffic on the Patna-Mughalsarai main line section has been disrupted with many trains being stopped at various stations between Patna and Dildarnagar, Mohan said.
The track is likely to be cleared by this evening after clearance of safety by senior officials, he said, adding that the Maghadh Express, the Brahmputra Mail and the Varanasi-Sealdah Express had been diverted via Gaya-Patna sections.
PATNA: Railway Minister Laloo Prasad ordered an inquiry into the fire which damaged three coaches of the Udayan Abha Toofan Express on Monday near Darauli station on the Mughalsarai-Buxar section under Danapur division of East Central Railway (ECR).
Train services were disrupted in the main line owing to the accident. A number of long distance trains were stranded at Mughalsarai and Buxar stations as work was on at the accident site between Darauli and Dildarnagar to restore railway link, ECR sources said.
No casualty or injury to anyone was reported in the fire which was doused with the help of fire tenders , the sources claimed.
The Commissioner of Railway Safety, Eastern Region, will hold statutory inquiry into the cause of the fire, the sources added. — PTI, UNI