Smart Skills
Bouquet of opportunities
Usha Albuquerque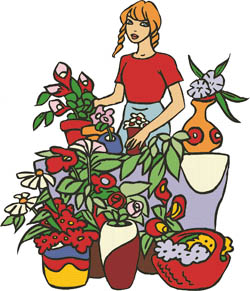 COME Valentine's Day, Rose Day, any birthday or anniversary, or if you want to patch up with your mother/girl/boy friend… flowers are always there to help you out! These days, when it is easier to say it with flowers than words, floriculture is becoming a blooming business.
The annual demand for flowers domestically is growing at a rate of over 25 per cent annually and around Rs 90,000 crore internationally. The supply, however, is less than half of the demand, providing a huge bouquet of opportunities for those with green fingers.
Bird of paradise, orchids, carnations, tulips, cherry blossoms and other blooms have become household names today. With technological advancement, great emphasis is also being laid on improving regular varieties of flowers, creating exotic species for decorative and commercial purposes, and mass-cultivation techniques for increased productivity. This has opened up new challenges for those entering this field.
Floriculture involves
cultivation of flowers

selling flowers as raw commodities

flowers for processing purposes, and

maintaining gardens and plants
Chance to bloom
Several industrial houses, including multinationals, are increasingly handling large-scale and scientific cultivation of flowers. Today, the emphasis in floriculture is not just in creating exotic species for decorative and commercial purposes, but also improving regular varieties, and developing mass-cultivation techniques for increased productivity.
Those who are looking for a career in floriculture, should make sure they enjoy the outdoor life, are interested in plants and farming, and like making and maintaining gardens.
Field wide open
Floriculture may smell sweet, but there is hard work involved. Farming involves the scientific management of soil preparation, sowing, harvesting, administration of nutrients and controlling climate. When flowers are ready to bloom, procurement, collection and distribution (natural or packaged form) follows in natural or packaged form for the domestic and export market. Plantation assistants and quality inspectors do the above, ensuring the flowers are suitably handled to extend their shelf life.
Seeds of success
Gardening mostly deals with cultivating flowers, flowering plants, shrubs and ornamental trees for decorative purposes. Grafting, collecting seeds and re-budding are the other tasks. This involves working in or running a nursery, maintaining town and country parks, picnic areas, golf courses, landscaping of gardens, lawns and hothouses. Floriculturists can specialise in producing exotic varieties, such as orchids and houseplants, or in bulb production.
Research route
Another important area is research and teaching. Research floriculturists look after improving and breeding new varieties of flowers and ornamental shrubs and plants. Scientific techniques like tissue culture, micro-propagation are applied, mostly in government-funded research laboratories or those set up by private companies, producing flowers and plants for commercial purposes.
Training talk
Although it is not necessary, formal training is advisable. A degree in agriculture with a specialisation in floriculture or horticulture is the best route. Punjab Agricultural University, Ludhiana, and all other agriculture universities offer B.Sc and M.Sc in Agriculture, some select universities offer B.Sc in horticulture (cultivation of fruits and vegetables) with some inputs on floriculture. These include Dr Y.S. Parmar University of Agriculture and Forestry, Solan, (HP), University of Agricultural Sciences, Bangalore, and Gujarat Agricultural University, Sardar Krushinagar. An M.Sc in horticulture offers specialisations in floriculture, pomology (cultivation of fruits), and olericulture (cultivation of vegetables).
Those interested in gardening and handling of cut flowers can take up short courses conducted by the Department of Horticulture, in different cities, or some large nurseries and by gardening enthusiasts.
Placement prospects
You will find jobs with companies as supervisors, farm or estate managers handling large-scale production of certain varieties of flowers. A combined knowledge of floriculture with management can get you managerial or marketing positions with organisations involved in the processing and marketing of flowers and flowering plants.
The department of horticulture and the municipal corporations take on specialists for handling plantations, nurseries and other landscaping projects controlled by the government.
You can also set up your own venture — growing flowers for the domestic or export market, growing ornamental plants, running nurseries, or providing gardening and landscaping advisory services. Another growing area is that of marketing of cut flowers or flower arrangements for general sale or special occasions, which has today become big business.
Some flowering plants provide specific raw material for pharmaceutical and cosmetic preparations. Moreover, with the growing demand for fruits and vegetables in the country and abroad, and the developments in the field of preservation and processing of foods, trained professionals can also work in related areas such as the large-scale farming of fruits and vegetables.
Nurturing nature and being a part of nature… is certainly worth it. And once you taste the sweet smell of success, it's going to be bouquets all the way.
The writer is a noted
career expert