PUNJAB

HARYANA

JAMMU & KASHMIR

HIMACHAL

REGIONAL BRIEFS

NATION

OPINIONS

MAILBAG

BUSINESS

SPORTS

WORLD
Saturday, April 9, 2005, Chandigarh, India
Updated at 3:00 am (IST)
Foreign trade policy sets export target of $92 billion
New Delhi, April 8
The government today unveiled the annual supplement of the foreign trade policy raising the export target to $ 92 billion in the current fiscal and announced an array of trade promotion and procedural simplification measures while keeping the rural economy at the epicentre.
CAST YOUR VOTE
Should Lok Sabha Speaker Somnath Chatterjee have cancelled his Sydney trip on the frisking issue?


FORUM

EDUCATION

JOBS & CAREERS

HEALTH & FITNESS

SCIENCE & TECHNOLOGY

SPORTS

SOCIETY

TRIBUNE CLASSIFIEDS

BRIDES WANTED

GROOMS WANTED

OTHERS

HOW TO PLACE ADVTS
Poor and powerful bid final goodbye to Pope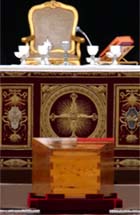 Vatican City, April 8
Pope John Paul II was laid to rest in Saint Peterís Basilica today after an elaborate and emotional funeral rite attended by one million people and watched by countless others around the world. Vatican officials said the Popeís body, encased in three caskets, was buried in the crypt close to the spot believed to contain the remains of Peter, the apostle chosen by Jesus Christ to found his church almost 2,000 years ago.

An empty chair is seen behind the altar and Pope John Paul IIís casket (at bottom) during the funeral in St. Peterís Square in the Vatican City on Friday. ó AP/PTI photo

Anil Ambani meets Finance Minister
Mumbai, April 8
Reliance Industries Vice-Chairman Anil Ambani today met Finance Minister P. Chidambaram at a hotel in Mumbai just a day after he accused a senior RIL Director of conspiring to tap his home and office telephones.
China to help Bangladesh N-programme
Dhaka/Colombo, April 8
China has offered Bangladesh assistance in the peaceful use of nuclear energy. An agreement to this effect was signed during the visit of Chinese Prime Minister Wen Jiabao to Dhaka yesterday.


In video (28k, 56k)
Full coverage: India vs Pak

2005
QUOTE OF THE DAY
The country was committed to improving Indo-Pak ties through a process of negotiations and other peaceful measures.
ó Sonia Gandhi

THE TRIBUNE MAGAZINES
On Sundays

On Saturdays

Chinese PM arrives today
New Delhi, April 8
Chinese Prime Minister Wen Jiabao is arriving in India tomorrow on a four-day official visit to signal Beijingís perceptional leap about India and with a positive mindset of resolving the decades-old border dispute while going full throttle for intensifying bilateral cooperation in all spheres.
SC upholds HC ruling, orders Brigadierís promotion
Upholding a Delhi High Court order quashing court martial proceedings against a Brigadier, the Supreme Court (SC) has paved the way for his promotion to the rank of Major- General.
2nd Administrative Reforms Commission to be set up
New Delhi, April 8
The Union Cabinet decided today to set up the second Administrative Reforms Commission (ARC) and constituted a committee headed by the Cabinet Secretary to fill the backlog of Scheduled Caste and Scheduled Tribes vacancies. (Details on Nation page)
Emotional outburst in Kashmir
Salamabad/Uri, April 8
It was picture perfect as an uncontrollable Justice Syed Sharief Hussain Bukhari, former Lahore High Court Judge, reunited with his nephew and other family members after more than 58 years, turning the atmosphere emotional.



J&K page: Forces in a tizzy over security of PoK visitors


Resurrection of hopes

:
An old woman touches the face of her nephew who came by the first Srinagar-Muzaffarabad bus service that started between India and Pakistan after 57 years on Friday.
ó Tribune photo by Amin War
Bus passengers bridge the divide
April 8, 2005

Ultras storm Srinagar Tourist Centre
April 7, 2005
Kaman Bridge all set for historic event
April 6, 2005
200 escape from burning train
April 5, 2005
Nitish Kumar faces roadblocks
April 4, 2005
Pope John Paul II is dead
April 3, 2005
PM open to talks with Musharraf
April 2, 2005
Jindal, Surender Singh die in copter crash
April 1, 2005
Tradersí strike almost total
March 31, 2005
2,000 feared dead in quake
March 30, 2005