PUNJABI ANTENNA
Reaching out to pardesis
Randeep Wadehra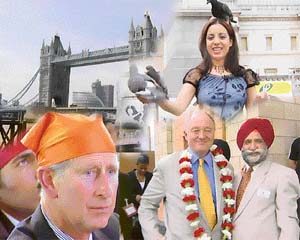 Pardesan Wich Punjabi focuses on Punjabis abroad
Punjabis settled around the world like to keep in touch with people and events in India. Earlier, live shows by Punjabi folk artistes were the only connection to happenings back home, but now satellite television, especially Alpha Punjabi's Pardesan Wich Punjabi, is proving to be the preferred link. Anchored by Sunita, PWP highlights the achievements of Punjabis abroad and also keeps cultural traditions alive by focusing on such functions as Baisakhi, Divali and Gurpurab among others.
In the UK, politicians and the British royalty like Prince Charles and the Queen mingle with the Punjabis on such occasions. PWP also telecasts messages from the NRIs to their loved ones in India. Another popular programme, Watno Door, on request, contacts their kin in India whose messages are recorded and telecast.
The proposed Value Added Tax has bemused traders in Punjab. Khabarsaar, anchored by Ritesh Lakhi, had a discussion on the pros and cons of this system – some of the participants aired their misgivings while others seemed to welcome the measure as it sought to bring about uniformity in the tax regime. The subsequent episode, anchored by Vishal Monga with Reeta Sharma and Gurpreet Ghuggi as panelists, dealt with the morality of carrying out sting operations by the media. Ghuggi made some candid statements on the prevalence of casting couch in the Punjabi entertainment industry too.
Parat Dar Parat devoted a couple of episodes to detailed examination of health care in Punjab. It found the state-run hospitals and dispensaries wanting when it came to providing responsive health services to the common man, thus giving private practitioners an opportunity to charge exorbitant fees from patients. Nevertheless, the show did give a pat on the back to the private sector for quality services. The PDP's episode on the manufacture of SU-30 multi-purpose strike aircraft and Hawk jet trainer was informative.
EYE-CATCHER

Bhalinder Singh's mother and sister are both gold medalists in instrumental music. His father's a skin specialist. He has apparently inherited his mother's talent as he's an accomplished guitarist and during his college days won several prizes in various youth festivals. He, however, chose to become a computer professional after graduating from Punjabi University, Patiala. Thanks to Navin Sharma – the then CEO of the news channel Punjab Today, Bhalinder got attracted to the electronic media. At present he's working with Alpha Punjabi as news anchor.
This feature was published on 2 April, 2005