AUDIOSCAN
Lao Mehndiyan
(Music Today)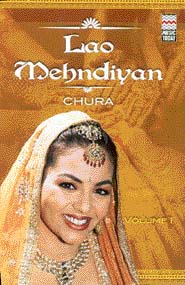 PUNJABIS have the knack of rigging up a celebration at the slightest provocation and make it a song and dance show. This wonderful capacity of living life to the full is manifested all the more at wedding times. The auspicious occasion generates so much of fun and frolic that its memories remain alive for years to come.
There are songs for each of the numerous wedding festivities in which almost everyone present joins in. These comprise a rich repository of our heritage treasure. Nineteen such tracks have now been compiled into this two-cassette album. These have been rendered effusively by Minu Bakshi, whose voice takes you back to the graceful era of Surinder Kaur and sisters. There are no vocal calisthenics and even an ordinary person can easily sing along.
Minu Bakshi has had years of Hindustani classical training and the riyaz shows here. She is also Professor of Spanish language at Jawaharlal Nehru University, New Delhi. Besides, she is an award-winning rally driver, having participated several times in the Himalayan Car Rally.
This is her first album. Inexplicably, her name is not mentioned on the jacket.
Applying henna on the palms of the bride is a sentimental occasion and that lends the title to the album. Then there are songs related to her hair being combed, she being presented bangles by her motherís brother and the ceremony of the groomís relatives visiting a nearby well to perform one of the many rituals.
Then there are also medleys of traditional folk songs which are usually sung during such festivities. They are suffused with teasing banter and musical repartee.
Overall, a fun album, which is likely to be played often during wedding functions.
Nigehbaan (Venus)
The main point of interest in this Himesh Reshammiya creation was Poochho na kya hoti hai by Pankaj Udhas. But this is just not the Udhas of yore. The silky smooth voice has developed many rough edges which jar.
Another song which could have impressed was Ki karan main ki karan by Kunal Ganjawala and Hema Sardesai but they have westernised the word Ki karan so much that it hurts. To make it worse, Anu Malikís Andarlu Mandarlu, which we have already suffered in Elaan, is reproduced here fully.
The redeeming feature is Shaayar shaayar by Shreya Ghoshal and Udit Narayan. ó ASC