Out of the BOX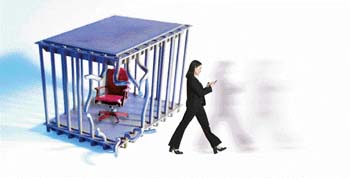 They have dared to dream, and grasp their dreams. They have let go the security of familiar and comfortable jobs to answer their calling. Smriti Kak Ramachandran meets the go-getters, who have set out on a different course
IN an eponymous fairy tale, Rumpeltstiltskin offered to spin gold from straw in return for first valuables and later the first born. That was then.
Hair force
Neha Sharma
LET your hair down in style. Here we are talking about hairstyles to match your handsets, car and attitude. So what say guys? Are you game?
| | |
| --- | --- |
| Steve show | The 2005 Pulitzer Prize for General Non-Fiction has gone to Steve Coll, for his book Ghost Wars: The Secret History of the CIA, Afghanistan, and Bin Laden, from the Soviet Invasion to September 10, 2001. Indian American author Suketu Mehta's book Maximum City: Bombay Lost and Found was among the three finalists. |
Telly can turn your kid into a bully
A new study conducted by researchers at University of Washington suggests that early home environment and television watching influence bullying behaviour in children.
J. Lo loves being dominated
STAR singer Jennifer Lopez says she loves being dominated by husband Marc Anthony and believes it to be the secret to their marital success.