Out of the BOX
They have dared to dream, and grasp their dreams. They have let go the security of familiar and comfortable jobs to answer their calling. Smriti Kak Ramachandran meets the go-getters, who have set out on a different course
IN an eponymous fairy tale, Rumpeltstiltskin offered to spin gold from straw in return for first valuables and later the first born. That was then. The similarity between the present and the past is the ability to spin gold. And it ends there. Rumpelstiltskin today is more like a Robin Hood who wants to give something back to society.
An unusual tale this. Of those who toil hard, romance risk and put at stake what have you. A small, but significant number, who care to follow their convictions, not the beaten path. All for the sake of a dream, a conviction.
To the deterrents and sceptics, the bulwark was an overpowering determination. A management expert quitting his hard-earned position, an engineer giving it up for the arclights, a landlordís son opting to teach in the slums and the list goes on.
When Arvind Kejriwal decided to take a sabbatical to plunge headlong into what he felt strongly about, his parents were sceptical. A Joint Commissioner in the Department of Income Tax wanting to take a break to pursue the cause of the common man was not their idea of prudence.
Almost around the same time, Vimlendu Jhaís parents had similar concerns. Why should their son want to leave a "plush job with a fat salary" for a cause that affects everyone, yet belongs to no one, they wondered.
"Everyone wants a Bhagat Singh in society, yet no one wants their son to be that Bhagat Singh," says Jha, speaking as if on cue for the others.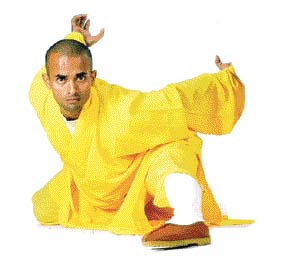 Kanishka Sharma, Photo by Rakesh Sahai
Management to martial arts
Kanishka Sharma set up the first Shaolin Temple in Delhi.
It is not everyday that a gold medallist management student from Holland gives it all up to settle for a pay packet that has at least two zeros less than what he earlier took home. But Kanishka Sharma did that and more. He not only took a U-turn in his career to do what he aspired to do but is also continuously striving to dispel myths about what he loves best: marital arts.
"Martial arts is not about kicks and punches nor is it what it has been reduced to, sports and games. Martial arts is a discipline... a way of life and this is what I am trying hard to explain to people," he says.
The 27-year-old is the first and only Indian to train at the world-famous Shaolin Temple in China. Having secured MBA from Holland, he gave up a well paying job with Reliance in 2001 to pursue martial arts full time, a decision most would agree is unconventional.
"I received a lot of support from my mother and my father always said do what you are happy doing but people were sceptical also. I also knew that in trying to swim against the current, I might fail and then people would say we told you so."
Kaniskha today boasts of several TV shows, a teaching academy and is working towards "building a replica of the Shaolin Temple Secular Discipline in the city, which should be ready in six months."
The thought of giving it all up for martial arts was a long thought over idea, he claims. "After my father passed away I resolved to learn in China. My mother stood by me and so did Anil Ambani, whom I approached for help."
Today the tough training sessions have paid off and Kanishka helps people beat stress. "I impart training in schools and corporates. I tell them how martial arts can help them become better at what they are doing. It is a discipline that increases efficiency and lowers stress and anger. It helps you become more productive and responsible."
Claiming to be a living example of success attained through this discipline, Kanishka, who has also taught film star Akshay Kumar Shaolin Kung Fu and Nuay Thai, is determined to give martial arts the respect it deserves as he gets together his "army of spiritual warriors".
For an alternative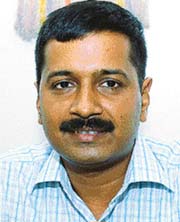 Arvind Kejriwal
Arvind Kejriwal, a civil servant, runs Parivaratan.
"I would love to give it all up, if only someone were to assure me of a means of living because Parivartan is not a source for making money. I have to think of something before I bow out of service but I know for sure that I cannot juggle like this forever," says Kejriwal, who has been on extraordinary leave from service to help people find an alternative to paying bribes.
Kejriwal, who started Parivartan in January 2000, says, "I firmly believe that there is a way out without having to bribe." Parivartan began with volunteers and today is a movement. "I refuse to turn it into an NGO because I want to be accountable to the people, not to the donors," says Kejriwal, who instead of fighting on behalf of people has begun helping them fight for themselves.
"We changed the modus operandi because we began to see ourselves as touts who do not charge. Now we help people do the paperwork and seek their rights," he says, recalling their first victory. "We helped Ashok Gupta get a new electricity connection that was refused to him for the last three years because he refused to pay a bribe of Rs 5000. Armed with the Right to Information Act, we got the connection in 10 days."
"We are living in a society of extortionists where the common man is not allowed to live honestly," he points out, citing the reason for his venture.
Engineered to act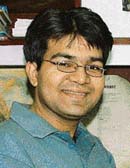 Sachin Gupta
Sachin Gupta gave up software engineering to pursue theatre.
While his batchmates negotiated for higher salaries, Sachin Gupta told his employers that he would leave office at six each evening. "It was like a precondition, I have to rehearse and therefore I had be out of the office at sharp six," he recalls.
Bitten by the acting bug, Sachin, a software engineer, refused to give up his passion even when Uncle Sam came calling. "My job in the US was finalised but I knew I could not juggle theatre with work in the US, so I stayed behind," he says.
After a slew of jobs with various media houses, Sachin finally followed his inner calling and today at 27, he runs his own troupe and a magazine dedicated to the performing arts.
"Chilsag Chillies, my group, was born in March 2003. Inspired by a true story I debuted with the play Celebration of Life. I began as a one man team and within days of auditioning was ready with the play," says Sachin, who has also received an award for the play.
Sachin, who has done it all from voiceovers to travel shows, from scripting to production claims nothing makes him happier than Theatre Pasta, his magazine, which has just been launched and the thrill of taking his works to different audiences.
"I am trying to take the play to Canada and am also looking forward to a theatre festival in July," he says, adding that "it is all about following your dreams and being the best thereafter."
Call for change




Vimlendu Jha
Vimlendu Jha, a Sanskrit scholar, runs an NGO.
Born in Bihar, he came to Delhi to study. His parents wanted him to become an engineer while he opted to study Sanskrit at St Stephenís. "I knew I did not want to be an engineer but did not know what else to do. I had never heard of social work or NGOs,"confesses Jha.
His journey began when he was paid money to go to Himachal Pradesh for a month by an NGO. "It was a paid holiday but I returned wiser. I reflected on life and saw what I never wanted to see."
Back in Delhi, Jha got involved in the Naramada Bachao Aandolan and anti-nukes protests. "There was the Chamoli quake and the Kargil war. We began collecting funds and managed to raise Rs 15 lakh for the victims of the quake," he recalls.
Balancing studies and his calling, Jha walked a tight rope. "My parents were not happy. The press clippings that I religiously sent home failed to impress them and they perhaps began to think that I lacked the calibre to crack the civil service examination and all this activism was an eyewash."
Jha, who founded We for Yamuna in August 2000, began with one person and today has a full-fledged NGO. "We registered it as Swechha Ė We for Change Foundation. We run courses for schools, earn money in elite schools and spend it in MCD schools, take children for yatras and with the help of an interactive curriculum teach them the relationship between man and nature," he says.
And the course of his journey was not a bed of roses. "I quit my job in December 2003... for three years I spent from own pocket and even made paper bags to generate money," he recalls.
Passionate about the environment and the Yamuna, Jha spent many nights sleeping at the New Delhi railway station because it was too late to return home.
Schooled support
Abdul Mabood quit teaching for counselling.
"There is something about me that makes people confide in me. I donít know what, perhaps it is the reassurance that I will never reveal their secret to anyone," says Abdul Mabood, director of Snehi, an organisation for psycho-social support and mental health care.
For someone who wrestled mathematical formulae and theorems, grappling with stress and emotional ammunition was not on agenda till a friend lost her battle to stress and bid farewell to life.
"I was wrecked... while returning home from her funeral I resolved that I have to do something about stress and the lack of social support in society. People find themselves alone with no one to talk to and so I returned to Delhi with an aim to help," says Mabood.
Money was short but the will to succeed and the support he received from his parents made up for it. "My friends thought I had lost my mind. How could anyone quit their job to counsel people, they failed to understand."
Mabood made perseverance his middle name and continued his tryst. "My grandfather gave up zamindari to join Gandhiji in the Freedom Movement, this was the least I could do," says Mabood, who came to Delhi from Champaran in Bihar.
"Honey Oberoi from the Delhi Universityís psychology department helped me, she put me through Professor Pal, who trained us for a month and helped us lay the foundation of Snehi in 1994. And we have not looked back since," he points out.
Snehi, which has done pioneering work in the field of telecounselling, will soon begin training programmes for counselling. "There is an acute dearth of trained professionals in this field, we are aiming at filling that gap," he says.
Warning that "mental illness will acquire epidemic proportions in the country," he says, "we want both the government and the individuals to take mental health more seriously. We need counsellors who can work where psychiatrists cannot."
Mabood is concerned that people have failed to recognise that mental illness is not just a health issue but a social problem. "Stress has too many causes but the remedy lies in reaching out."
Zamindari to slum care
Suraj Yadav, a rich landlordís son, teaches in the slums.




Kuntal Krishna
When Suraj Yadav took his friends home (Khagaria in Bihar) for a holiday, they were greeted not by garlands and placards but by "more than a 100 people on horseback."
His awestruck friends found the welcome befitting royalty but for the village it was the norm, the way to welcome the "zamindarís son". Suraj, who is reluctant to talk about his patrimony, has concerns that include "health and education for the slum dwellers." Suraj runs 20 centres under his NGO called Ank, which educates children of slum-dwellers in Delhiís southern parts under the Sarva Shiksha Abhiyaan.
"We never managed to persuade him to join us for a movie but he has managed to rope in all of us to teach his children," says Kuntal Krishna, spokesperson of the National Studentís Union of India (NSUI) and an active AIDS awareness campaigner. Kuntalís own story bears a similarity to Surajís. "My parents wanted me to become a doctor or an IAS officer but I chose politics and social awareness." From counselling drug addicts to raising funds for the victims of calamities, from organising AIDS awareness campaigns to motivating the youth for effective participation, Kuntal sees himself as a harbinger of "change."
"The youth has to come forward, whether it is for politics or poverty alleviation. One person motivating the other is all we want. Society has plenty of doctors and engineers...we need crusaders."