Hair force
Neha Sharma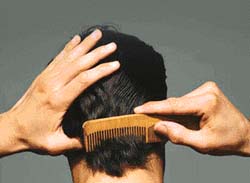 LET your hair down in style. Here we are talking about hairstyles to match your handsets, car and attitude. So what say guys? Are you game?
A manís personality is judged not only by his shoes but also his hair-do. "Iím working in an MNC and I want my hairstyle to convey a degree of authority," gushes Rajesh Bhardwaj.
The right kind of hairstyle can enhance oneís looks. "Every face is different for a hair dresser; hairstyles can actually complement the face-cut of the customer," says haistylist Rajbir.
"An uneven haircut is the right choice for the vagabond look," says Surjeet, a B.Com student. And some may like it simple too. "Just a simple trim, whatever style you are born with is the safest bet for all seasons," says Ankur Bhatia, a management student.
Every youngster desires to be trendy yet comfortable. "I donít wish to be an MTV clone, so my hairstyle has to suit me before it fits in with changing trends," says Shirish Sodhi, a Delhi University student.
But hairstyling of late has assumed a bolder, newer and more daring style. "Spiked hair is the most popular cut, as it is trendy and gives a sleek look," asserts Piyush, a fine arts student. There are many other styles to choose from. Razor style, with an uneven cut, is popular too. "I look slimmer, smarter and younger with this cut," confidently says Vikram Kapoor, a marketing manager.
Then there is the Ďslope cutí to give you instant appeal. "A slope cut looks glamorous on long tresses," says Ankit Narang, an M.Com student.
Bollywood stars set hairstyling trends too. Rajesh Khanna, Amitabh Bachchan, Hrithik Roshan, John Abraham, all have given new ideas to star-struck lads. "Boys come and ask me to give then the John Abraham or Salman Khan look, states Arif, a hairdresser. "If you have thick locks then John Abraham look would be most apt," he adds. ó MF
Style smart
Give them colour
You can choose from a number of colours like copper, brown and red. "Mahogany looks best on dusky Indian males. Customers usually prefer streaks than full hair colour," says Juniyad, a hairstylist.
Singing in the rain
A well-gelled hair is just right for that evening appeal. "Wet hair give you a sensuous and mysterious look, which is best for parties, where spirits are let loose," says Bhupesh, an engineering student.
Look beyond the street
If you donít believe in doing as the Romans do then try a combination of hairstyles to stand out from the rest. "I have spikes but sloping hair towards the ends," says party-hopper Amit Oberoi.