J. Lo loves being dominated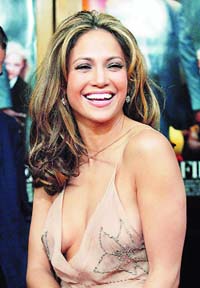 STAR singer Jennifer Lopez says she loves being dominated by husband Marc Anthony and believes it to be the secret to their marital success.
According to reports, Marc Anthony is so domineering, that he even selects her wardrobe and directs her on her events and speeches.
The celebrity couple, who have been married for six months, reportedly have an extremely fiery relationship, which J.Lo brands ĎCalientebí meaning hot in Spanish.
"Itís not an easy romance, it is a real-life marriage between two very hot-tempered people", Femalefirst quoted a friend as saying.
While Jennifer recently revealed: " Thereís never a dull moment with him. He makes me mad, he makes me laugh, he infuriates me, he excites me." According to the report, people close to the singer-cum-actress say, her previous lover, Hollywood star Ben Affleck was too weak for her and their relationship fell apart because she was the stronger among the two while she likes being told what to do.
"Ben was weak in that regard. She could run roughshod all over him. Ben let her have her way on everything and, the next thing he knew, she was done with him. You canít get complacent with a woman like J.Lo. You have to stay on your game, because she is always on hers ", a friend was quoted as saying.
Sylvesterís secret is food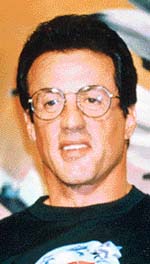 Sylvester Stallone is set to reveal the secret of his looking so good at 58 in a book laying out his dietary habits.
Stallone, who hopes to release the book this summer, said that the secret to his success and good health has always been self- control.
"I try to figure out what has worked over the years and stick to it. Iíll overeat on a certain day and the next day Iíll just cut back... after a while it becomes second nature," Femalefirst quoted Stallone as saying.
"Diets donít work. Itís taking whatever you do and just moderating it... Iím just gonna lay it out for people," he said, adding that his dietary tips have already paid off on former boxing champion Sugar Ray Leonard, who had let himself go after years of fighting fit. ó ANI