STAMPED IMPRESSIONS
Principled activist
Reeta Sharma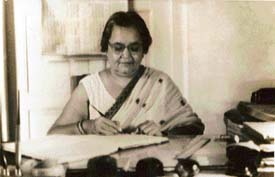 Tender touch: Teacher-cum-social activist Sarla Kaushal continues to live in the hearts of people
SARLA Kaushal was only two years old when she lost her mother in 1913. By the time she was six, her father also left this world. She and her sister were handed over to the nearest relations. A trust formed by their father took care of their education. While her sister quit formal studies after Class VIII, Sarla secretly nourished a dream to be like her Principal V. Thapar and worked hard to get degrees like "FA, JBT, BA, BT."
During the freedom struggle, Sarla was studying at a college in Lahore. Her grit and determination to forge ahead made her friends naturally accept her as their leader. Whatever boycotts she announced were followed without any questions. So, when Simon Commission came to India and Lala Lajpat Rai died, she commanded, "We will not attend college but have a flag march." Similarly, all commands of Mahatma Gandhi were carried out by her in her locality and college.
`A0The burning desire to chase education made her a voracious reader and understand human behaviour better. I came in contact with her when I was in school. She had retired as Principal of Saien Das High School in Jalandhar. She must have been between 65 and 70 years, but she had an erect posture and a sprightly gait. There was always a stream of women and children to visit her at her home in Jalandhar. Who were they? This question often baffled me. I was to learn the answer many, many years later.
After Partition, Sarla got married and settled in Jalandhar with her two children. By this time, she had made a name in the field of teaching. She was known for inculcating values in her students. She would often walk into her students' homes and discuss at length their problems with their parents.
`A0 On February 22, 1948, when the first rehabilitation centre for refugee women and children was opened at Jalandhar, she was given charge of it in addition to her teaching work. A meticulous organiser, Sarla ran the centre like a godmother to the women and children.
Sarla felt that the women and children would never forget their tragedies by remaining idle. She pursued the authorities to impart some skills to these women. She also succeeded in getting permission to adjust the children in various schools. Due to Sarla's efforts, many trained women came forward to teach the rehabilitated women leatherwork, embroidery and stitching. This training enabled these women to earn their livelihood. Even after these women and children got rehabilitated, Sarla remained in touch with them. She would often travel great distances to visit them. Many of the children wrote letters to her, addressing her as "Nani Ma or Dadi Ma".
`A0On her second death anniversary on April 5 this year, I had the answers to all my questions. I was surprised to see a large gathering at her daughter's home in Chandigarh. Almost all of those who had gathered were from Sarla's extended family. They had travelled from far off places to reach out to her daughter. While returning, I realised that Sarla Kaushal had not died. She was living in the hearts of so many people people because of her unconditional love and the selfless service that she had rendered to them, as a teacher and a social activist.