A saree wrapped around culture
The Paithani is more than a saree, writes K.D.L. Khan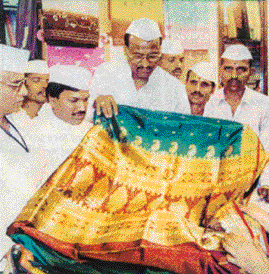 Few Indian brides can afford a Paithani saree

The legal quibbles regarding the marriage of Prince Charles the Prince of Wales and Mrs Camilla Bowles may continue. But, the well wishers of Prince Charles—the dabbawalas of Bombay have bought a marriage present, a half-paithani saree, a pair of the fabulous Kolhapuri sandals and a ceremonious maratha head gear for him. The whole episode started with the visit of Prince Charles in 2004 to India. He had read about the food being supplied to the Bombay office goers by the organisation known as Dabbawalas and had heard that their efficiency is better than many top grade world firms.
According to Forbes magazine, which conducted a study of the 5000 dabbawalas, they do not make even one mistake in the millions of deliveries they make every year to the 2,00,000 office-goers. They collect the food at 9 am and ensure that the empty tiffin box is back at the office-goers' home by 5 pm. All for Rs 300 a month.
Prince Charles met them in Bombay and quizzed them about their work and got them world publicity. This year when the dabbawalas heard of the marriage of their British patron, they decided that they must do their best to him and his consort. What can be more important than a fabulous paithani saree for the bride?
It is a fact that very few Indian brides can afford a paithani sari. Paithan today is a simple taluka town in Aurangabad district. A quiet religious place on the northern banks of Godavari in Maharashtra. Gone are the days when Paithan was a prosperous trade centre called Pratisthan and exported rich fabrics and precious stones to far off lands.
Paithani is a poem in silk and gold. The art of weaving paithani saris in Aurangabad is believed to be 2,000 years old. The border and the reversible pallav are the defining features of an original Paithani saree and is reversible with the same design seen on both sides. A paithani can retain its texture for at least 200 years.
In the Pune Purwar museum, there is a paithani saree reputed to be 800 years old. The mulberry silk to make sarees comes from Bangalore and costs about Rs 1,700 per kg, while the zari is moved in from Surat at Rs 800 to Rs 12,000 per kg. On an average, a paithani saree has 200 to 350 gm of zari, 700 gm of silk and a completed saree weighs between 800 and 900 gm.
Traditional creative artistry and painstaking workmanship combine to form this unique cloth and make it an experience for the visual and tactile senses. It takes a master weaver an entire day to weave just an inch of this material and sometimes a saree is completed after a year-and-half. Paithani sarees are expensive, they come for anything between Rs 4000 and Rs 2.25 lakh. The price depends not on the material, but on the workmanship. The great 13th century traveller Marco Polo once wrote of this fabric that was given to him in the Deccan region, "it is as fine as spider's web and kings and queens of any country will take pride in wearing it."
The art of weaving these sarees almost died down but for the effort of a Qureshi family from Aurangabad to revive it, 100 years ago during the time of Nizam of Hyderabad. The Qureshis preserved and promoted the art. The 13th generation of that famous family, Ajas Ahmed Quereshi, today runs the Aurangabad Paithani Weaving and Training centre in Aurangabad. This is a government undertaking. The government sponsors the looms for the work and runs training schemes for people interested in the art of weaving. Ajas Quereshi, who learnt the job from his father, is a master craftsman himself and specialises in the weaving and designing.
One can go to his 150 year-old factory, where the original treasure of paithani art is preserved. It is open between 7.30 am and 10 pm every day. In the factory, you will see master craftsmen in action on a double-sided loom painstakingly working on a saree or shawl.
One will be a programmer, who makes the design and the other, the weaver. I Designs are adopted from the frescoes of Ajanta or from traditional Mughal motifs.
People come from all over India to buy Paithani sarees at this factory. The labour force consists of 150 women and on an average each worker earns between Rs 200 and Rs 500 per month depending on the type of paithani sarees she weaves. Another important centre for the production of his type of sari is the Paithani Design and Demonstration centre run by the Maharastra Government, about 60 km from Aurangabad. Even till quite recently the rich used to place orders for a paithani saree costing about Rs 2 lakh a piece and taking about two years to weave.
Nowadays the price range has fallen to about Rs 30,000 per piece. And Camilla Bowles, who has almost become the Queen of England, will be having a semi-paithani saree in her wardrobe.
— MF