Fruit of passion
Shastri Ramachandaran
The Alchemy of Desire.
by Tarun J. Tejpal. HarperCollins, India. Pages 518. Rs 500

I was tempted to dump it (unread) in Chandigarh's Sukhna Lake, like the nameless protagonist in Tarun Tejpal's novel who drowns his second manuscript. For two reasons: One, V. S. Naipaul commends it as "a new and brilliantly original novel from India". If that was not provocation enough, Tejpal himself was not actually extending an invitation when he declared publicly, "I don't care at all about what journalists say about my book. The best reviewers have drifted out of mass media anyway".
Living, as one does, in a world of competitive vanities, I opted to plunge between the covers, emboldened by the fact that these columns enjoy a vastly bigger readership than The Alchemy of Desire can ever aspire to. And, I am glad I was not put off by either Naipul's testimonial on the cover or Tejpal's own take on my professional irrelevance in his scheme for the book. The book is truly 'new' and 'brilliant', and 'original' too, unless one wants to split semantic hairs over the relativism of these terms. Tejpal, the alchemist-wordsmith, through impassioned pounding, does succeed spectacularly in transforming the base metal of raw sexuality into the refined gold of art. From the opening line "Love is not the greatest glue between two people. Sex is." through an unrelenting course of over a hundred years across continents, cities, cultures and generations richly peopled with passions and perversions, love and betrayal, politics and perfidy, bodily hungers and demons of the mind, Tejpal arrives at the last line "Sex is not the greatest glue between two people. Love…".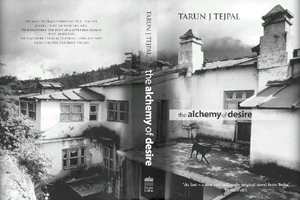 It is a captivating narrative and captures the chaos that is India and was India down the ages with myth, lore and legend flourishing alongside rationalism; where reason and unreason are both gods that Indians bow to; where the ephemeral obsesses as much as the eternal; where the existential and the essence are inseparably intertwined; and where either the past catches up with you, or you are driven, by unseeable demons, to catch up with the past to make sense of the present. Here being is nothingness and nothingness is being, both forever charged like the unceasing sexual tension between irresistible opposites, whether locked in ravishing bliss or held apart in electrifying tautness, but forever trapped in the insatiable hunger of desire that craves flesh.
The novel is well 'fleshed out'. It's rich sexuality lifts this work way, way above the ordinary. Rare is the Indian writer in English who has ventured thus far with the language, force, imagery and originality; rarer still a work suffused with erotica, much of it literal but a lot of it metaphorical too. Devoid of clichés as well as pornographic clutter, The Alchemy of Desire is about a young couple unburdened by either money or inhibitions, glorying in the glories of love. Forever fixated with each other and each other's bodies – and minds – of which they can never get enough, the couple moves from Chandigarh to Delhi. When destiny favours them with a windfall, the narrator along with his beautiful, sensuous wife, Fiza (called Fizz) for whom his appetite grows by that on which he feeds, escapes to the hills of Uttar Pradesh. Here, they abandon themselves to and in each other with a reckless, fevered intensity that is oblivious to the world except for attending to the chores of renovating the house they have bought. They come upon a set of diaries written by the first occupant of the house, whose portrait is then hunted out. The diaries and the ghost of the woman — an American who after discovering the distractions of the flesh in Paris, winds her way to the lower Himalayas along with a young, homosexual nawab who loves her nevertheless with unflagging affection – then seize the mind and body of the narrator. The physical fires between the narrator and Fizz get frozen. Fizz flees and the narrator is left to chase the demons of his imagination.
The narrative is fast-paced and moving. The prose — crackling with energy, and at times, scorching – is a delight. The descriptions are evocative, authentic and sensual; be it of botanical life, the grease pole in a newspaper office, the chaotic traffic or the engrossing bodily explorations. The erotic content places the novel in a class by itself among Indian writers in English. There is an explicitly sensuous chapter in Arundhati Roy's God of Small Things, but her imposition of an overt socio-political statement sullies the sheerness of the erotic encounter. In his The Last Song of Dusk, Siddharth Dhanvant Shanghvi breaks new ground, going further than any other Indian writer before him; he is bold but gentle and there is a reflective quality to the sensuality unravelled.
In The Alchemy of Desire, Tejpal is audacious as would be those who venture to assault the Himalayas. His sexuality has a raw, overpowering force: Echoes of Nabokov, though Fizz, his Lolita, enviably enough finds abundant sexual thrills and happiness in 20 years of monogamy; shades of Henry Miller and Philip Roth; and, influences of Rushdie and Jim Corbett. None of which diminish the originality of a novel that is, paradoxically, as exciting as it is a pleasure.
EXCERPTS
Chandigarh: Roots of desire
From the dining table we went straight to the bed and only got out of it at night, and then we took out the bike and went for a long drive, cruising up and down Chandigarh's wide avenues, from the lake to the university and down the link road that ran to Mohali, open green fields flanking its sides. The traffic was scarce, the night was cool, the bike smoothly zipped open the silence behind us, the wind was in my face, and she held me tight, her soft hands inside my shirt.
*****
We went to KC, absurdly shaped like an aeroplane hangar, and caught the Hindi matinee. The film was noisy, but the clamour couldn't drown out my worry. Later we sauntered through the Sector 17 plaza, winding up at the New Variety Book Store. It had so few books that they were all displayed like posters on the walls. The man who ran it was a queer fellow. He did not seem like a reader of English books, but he stocked the best collection of English literary titles in Chandigarh. There were titles there — including paperback editions over fifteen years old — that no one else had.
*****
After breakfast we went for a walk to the Upper Mall, ambling past the sprawling old bungalows hidden behind trees and foliage, only chimneys and red roofs showing. Kasauli was special for us. I had been coming here for eight years and we had been coming here together for six.
*****
Why do you want to go to Delhi? he said. There was no twinkle in his eyes now. He looked concerned. I said, I need a job. I need to get back to work. I need the money. But why Delhi? Why do you want to leave Chandigarh for Delhi? I said, Just like that. Get a move on. But, boss, you can do all that here. This city has everything.
*****
We would walk for hours every day, from sector to sector, from my room in Sector 9 to the university in Sector 14 to the bookshops in Sector 17 to the cinemas all over the city to her house in Sector 35. Chandigarh was then a great city for walking, with wide roads and lovely trees lining them, arjun, amaltas, gulmohar, neem, semul. Every evening, when it was time for her to go, clinging desperately to one last minute, I would wheel her small bicycle along as I walked her, across the city, to her gate.
*****
By late afternoon I was back in Chandigarh….The city appeared to have shrunk dramatically since we had loved here nearly twenty years before. Those distances we had walked endlessly seemed quite short now; the lines of trees had been pushed into the background by the bustle of traffic; the cycles driven out by motorbikes and cars.
Memory of the roads was of silence and conversation. Now there was a continual clamour of engines and horns. I thought: no longer can you walk and find love here.
*****
There was a Sikh cabbie outside ( JFK Airport ) and he wanted to talk about the Khalistani separatist movement of Punjab. He had arrived illegally fifteen years earlier and not been back since. In a few years he had the papers. His wife and sons had followed him in time. His accent was still unmistakably Amritsar. He had a picture of Guru Gobind Singh on his dashboard. He was grey-bearded, wise and convinced that the Sikhs needed a separate state. I looked at him and wondered at what images of his land he carried inside his head, what affections, what guilts. The memories of men can be as dangerous as their fantasies.