Tribute
Prose writer with poetic flair
Jitendar Awasthi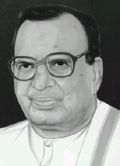 Aliterary giant, Dr Vidya Niwas Mishra imbued the world of Hindi letters with a new sensibility. Be it teaching or his literary and journalistic pursuits, Mishra left a mark in every field. A man of many parts, he was an astute astrologer too. His death in a road accident on February 14 has left a vacuum in the literary world.
Born in 1925 in a village in Gorakhpur, Mishra took keen interest in Sanskrit during his student days and attracted applause for editing and compiling a Hindi dictionary.
Mishra did MA in Sanskrit from Prayag University and got actively associated with the Hindi Sahitya Sammelan and eventually with the AIR too. His interest in teaching took him to Gorakhpur University, where he was appointed senior professor of Sanskrit. After a brief stint there, he shifted to Varanasi Sanskrit Vishwa Vidyalaya and was eventually selected Vice-Chancellor of Sampoornanand Sanskrit University.
Mishra made a successful foray into journalism too and for many years was editor of Navbharat Times. He had been a visiting professor at California and Washington universities and participated in a number of seminars and literary programmes in India and abroad. But wherever he went or worked, this Hindi-Sanskrit litterateur remained deeply attached to his motherland and Bhojpuri ethos. Mishra was deeply entrenched in Indian culture, and this was reflected in his lifestyle and writings.
Mishra did a great service to Sanskrit and Hindi. In the field of research and criticism, he wrote The descriptive Techniques of Panini, Bhartiya Bhasha Darshan Ki Peethika, Agnipath and Bhartiya Bhashashastriya Chintan. He also did linguistic analysis of Ashthadhyayi, a Sanskrit book. Besides, he had to his credit a good number of anthologies and books edited by him.
A prolific writer, Mishra chose a number of genres. He depicted his vast knowledge of ancient history and culture in his writings. In his works, he correlated the ancient with the modern.
A disciple of Pandit Kshetresh Chandra Chattopadhyay, Mishra was influenced by legendary scholar and travelogue writer Rahul Sankrityayan. A great believer of the true (satyam), the benevolent (shivam) and the beautiful (sunderam) aspects of life, he was able to lend a fine style to his prose.
But, primarily, Mishra was an essayist. He gave a new meaning and direction to this genre in Hindi. He did not only carry forward the essay-writing tradition of Dr Hazari Prasad Dwivedi, another celebrated Hindi writer, but also enriched it in his own way. Structured on the foundation of original thought and basic concepts of Indian culture, his essays make interesting reading.
He penned down over a dozen compilations of essays, including Tum Chandan Hum Paani and Mere Ram Ka Mukut Bheenj Raha Hai. His dictionaries and anthologies include Shaasham Shabda Kosh, Hindi Prayog Vaarshiki Kosh, Darshan Shabda Kosh and Bhasha Vigyan Kosh. Besides his poetry book Paani Ki Pukar, he came out with Hindu Dharma mein Sanatan ki Khoj and Mahabharat Ka Kavyaaratha. The books edited by him include Satyanarayana Granthavali, Dr Shyam Sunder Das ke Nibandhon ka Sangrah, Dev Deep Shiki, Tulsi Manjari and Aadhunik Nibandhavali.
Mishra wrote essays in a fine and refined language. Some of his essays are travelogues, others are beautiful life sketches. Mishra was a prose writer with a poetic bent of mind. Metaphors and similes abound in his essays. His prose creations have a definite vision and an easy flow of feelings. His essays brought in a cohesion of thought and feeling, making him one of the most outstanding modern essayists.
For his valuable literary contribution, Mishra was honoured with a number of awards, including the Padma Shri, the Padmabhushan and the Moortidevi Prize.