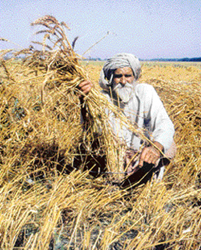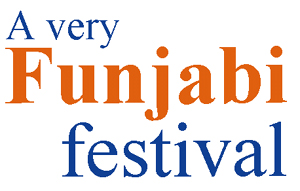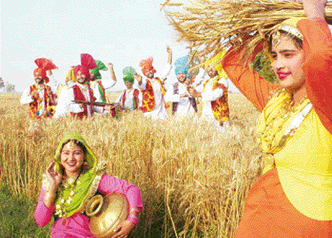 Baisakhi has evolved from a harvest festival embodying religious fervour to a global celebration of Punjabi exuberance. Nirupama Dutt captures the flavour of Baisakhi from Damdama Sahib to Trafalgar Square

"So you have come for the Baisakhi Mela?" The rickshawala asks in his earthy Punjabi and before waiting for an answer asks another question, "Why havenít you brought your children?" ĎChildrení in Punjabi parlance includes the spouse.

Baisakhi of 1919


Blossoms and waves
The last Resort
In a landscape being overtaken by steel and concrete, Roopinder Singh escapes to a stretch of earth, trees and the sea
Kerala. The tourism industry and the hype that it has created through its advertising campaigns, travel brochures and websites, has desensitised us to the beauty of "Godís Own Country," which has now been reduced to a clichť. However, the memory of Kovalam visited 25 years ago was still fresh and beautiful. It is rare that the memories and reality are in consonance, but in this case, they were, and revisiting Kovalam was a treat.
Eternal Dev
A retrospective of Dev Anandís hits held in Delhi shows why this vintage Bollywood starís appeal transcends time and trend, writes Saibal Chatterjee
There is nobody quite like Dev Anand. A timeless Bollywood icon, an eternal dreamer and a man of action, his creative life has never known anything akin to a full stop.
1000 shows, and still going strong
V. Gangadhar on Dinesh Thakurís record-breaking play Hai Mera Dil
Around 11.15 pm on Sunday, March 27, the entire cast of Mumbai theatre personality Dinesh Thakurís ANK production, Hai Mera Dil came on the stage at Prithvi Theatre to receive rounds of standing ovation.
Treat for US fans
Brisk ticket sales were reported for the Amitabh Bachchan retrospective being organised by the Lincoln Centre Film Society in New York from April 8 to 19.
Another classic in colour
After Mughal-E-Azam, the Meena Kumari-Raaj Kumar starrer Dil Apna Aur Preet Parayi is getting ready to go colour. The process of adding hues to the Kamal Amrohi film began on Thursday, said Asad Tyrewala, director of Film India Communications and the man behind the project.