Eternal Dev
A retrospective of Dev Anand's hits held in Delhi shows why this vintage Bollywood star's appeal transcends time and trend, writes Saibal Chatterjee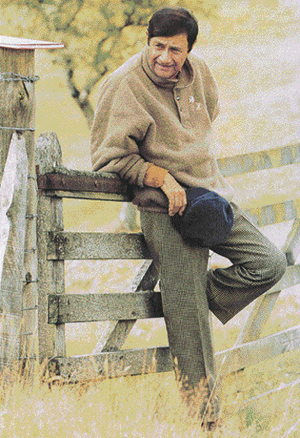 The actor epitomises Bollywood's indomitable spirit

There is nobody quite like Dev Anand. A timeless Bollywood icon, an eternal dreamer and a man of action, his creative life has never known anything akin to a full stop. Making his debut as an actor in the mid-1940s, the Gurdaspur-born Dev Anand has soldiered on for close to 60 years through the ups and downs of a remarkably eventful showbiz career.
A three-day weekend retrospective of five of his biggest 1960s hits, organised by the Directorate of Film Festivals (DFF) in New Delhi last week, served as a reminder of Dev Anand's everlasting star appeal.
The concept of a "weekend film festival" is the brainchild of Afzal Amanullah, Joint Secretary (Films) in the Union Information and Broadcasting Ministry. The idea has stemmed from the need to put the thousands of film prints in the possession of the DFF to good use.
Some months ago, lovers of classic Hindi cinema were treated to a Madhubala film festival held at the national Capital's Siri Fort Auditorium. The retrospective included the original black and white version of K. Asif's classic Mughal-e-Azam.
The clamour for such events appears to be growing. The popular response to the Dev Anand package was clear evidence of that. The five films screened during the festival were Kala Bazaar (1960), Hum Dono (1961), Tere Ghar Ke Samne (1963), Guide (1965) and Jewel Thief (1967).
The Dev Anand festival was a follow-up of sorts to the Dadasaheb Phalke Award that the Bollywood luminary won a little over a year ago.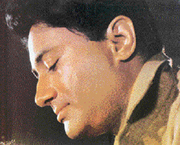 Dev Anand in Guide

The charismatic and evergreen star did his finest work as an actor, filmmaker and talent scout between the 1950s and early 1970s. But he won the Phalke Award only in 2002. He would certainly have been a far better candidate for the prize in the 1980s — that was when films such as Nau Do Gyarah, Kala Pani, Hum Dono, Kala Bazaar, Guide, Jewel Thief and Hare Rama Hare Krishna, to name only a few, were still fresh in people's minds.
Today, after having delivered a stream of poorly scripted, indifferently mounted, defiantly kitschy box office duds for over a decade, he isn't really hot property although he is rarely far away from the vortex of the action.
"Nothing gives me more happiness than making films," the octogenarian actor-producer-director says. "It makes me feel young."
Indeed, Dev Anand is past 80, but his fans still associate him with youthfulness. Nobody epitomises Bollywood's indomitable spirit better than he does. "It is the love and support of my fans that keep me going," he says.
His career as a filmmaker has sustained body blows in the recent years, he has lost brother Chetan Anand and Vijay Anand (the latter 12 years his junior), and he is now remembered more for his past deeds than for his current exploits.
But Dev Anand being Dev Anand, he still dreams of delivering another blockbuster, of authoring a final hurrah.
It is indeed a great idea to seek to retrieve Dev Anand's glory days from the industry's fading memory bank and place it back in the public spotlight. He deserves it. Especially so at a time when Bollywood is seeking to aggressively position itself as a player on the global stage.
The suave Dev Anand is just the kind of timeless icon who needs to be projected as a Bollywood mascot. Few actor-directors have epitomized the inimitable qualities of the Mumbai film industry quite as effectively as him.
Dev Anand is Bollywood far more than say an Amitabh Bachchan or a Dilip Kumar is. He represents, in near-perfect unison, the idiosyncrasies, the grit and tenacity, the flamboyance and, above all, the energies of a film industry that has carried on regardless through thick and thin. The toothy grin, the lopsided gait, obsession with scarves and berets, distinctively breathless dialogue delivery — they are all integral to the brand that Dev Anand personifies. He is a real yet larger-than-life star, an instinctive actor, and an unstoppable creator.
Not only has Dev Anand been the star of many an unforgettable blockbuster, he has also written and directed some memorable mainstream films besides giving the industry a few of its most respected artists — music directors S.D. and R.D. Burman, lyricists Sahir Ludhianvi and Neeraj, directors Raj Khosla and Vijay Anand and actors Johnny Walker and Zeenat Aman.
He may have lost his touch a tad of late, but his zest for life and work is still intact. The last genuine box office hit that he delivered was nearly a quarter century ago in the form of Des Pardes. But so what? Dev Anand is still very much at it. He is one of the longest-running epics Bollywood has ever produced.