M A I N N E W S
Wen for Indian software in Chinese hardware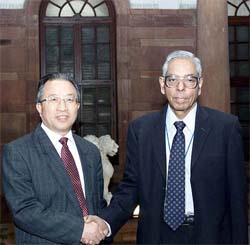 National Security Adviser M.K. Narayanan shakes hand with his Chinese counterpart Dai Binggou in New Delhi on Sunday before the special representative-level talks on resolving the border dispute between two countries. — PTI photo
Bangalore, April 10
Ahead of his talks with Prime Minister Manmohan Singh, Chinese Premier Wen Jiabao today suggested cooperation with India in high-technology, including space, and said the two countries could join hands to usher in "Asian Century" in information technology.
Wen kicked off his four-day trip by interacting with honchos of India's biggest software exporter Tata Consultancy Services and visiting ISRO's satellite development centre here.
"If India and China cooperate in the IT industry, we will be able to lead the world IT industry and when the particular day comes, it will signify the coming of the Asian century of the IT industry," the Chinese Prime Minister in his interaction with TCS executives.
Noting that India's advantage in software and China is ahead in hardware, Wen said cooperation was "just like two Pagodas — one hardware and one software and combined, we can take the leadership position in the world."
"If we believe that the development of the IT industry symbolises the future of science and technology and the economy, then the cooperation between our countries to develop the IT industry will symbolise the prosperity of our two nations in future," Wen said.
"I strongly believe that if we join hands together, we will certainly be able to set a new trail in the IT business world," he said.
Visting the ISRO Satellite Centre, the Chinese Premier called for enhanced cooperation and tapping new avenues in high-technology areas between India and China.
Wen expressed the view that there are a lot of areas for (enhanced) cooperation in high-technology space, as well as exploring new opportunities, said ISRO Chairman G Madhavan Nair, who made a presentation on India's space programme to Wen and the accompanying Chinese delegation.
India already has a memorandum of understanding with China is space applications in the area of remote sensing.
"We are in touch with CNSA (China National Space Agency)," Nair said. "We also have a joint working group which meets once in a year". — PTI