M A I N N E W S
Surender Singh's legacy passed on to daughter
Raman Mohan
Tribune News Service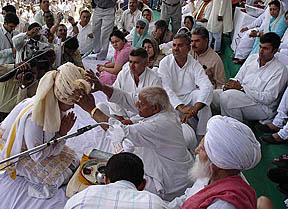 Shruti, daughter of the late Haryana Agriculture Minister Surender Singh, accepts a pagri at a ceremony at Bhiwani on Monday.
Bhiwani, April 11
The legacy of former Agriculture Minister Surender Singh was passed on to his daughter Shruti towards the end of his rasam pagri held at the Bhim Stadium here today.
The minister had been killed in a helicopter crash near Saharanpur in Uttar Pradesh along with Haryana Power Minister Om Parkash Jindal on March 31.
In Haryana, normally the pagri is tied to the head of the eldest son of the deceased symbolising that he would now discharge the social responsibilities of his father. In case the deceased has no male child, the responsibility passes on to a close male relative.
Surender Singh had no son. The legacy was, therefore, passed on to his daughter. This is highly uncommon though not unprecedented in rural Haryana. The gesture by the family won the appreciation of the well-wishers of the dead leader who attended the ceremony in large numbers.
Surender Singh's father, former Chief Minister Bansi Lal — widely known as the iron man of Haryana in his heydays, could only muster courage to thank everyone present for their condolences and support before he broke down and took his seat.
However, young Shruti proved equal to the onerous duty handed over to her. In an emotional tribute to her father, she described him as a model father, politician and leader. She said her father was no run-of-the mill politician. "He never accepted garlands of currency notes which is the hallmark of politics. He always believed the love his voters gave him was more valuable than anything else", she said.
Shruti said Haryana was her father's first love and till his death, the welfare of the state and its people always remained his priority. "I remember travelling with him in helicopter and planes. Whenever we entered the airspace of Haryana, he would point to Haryana's lush green fields and the sand dunes. Whenever he did so, I always noticed a strange glow on his face. That's how much he loved Haryana", she added.
Chief Minister Bhupinder Singh Hooda appeared visibly moved by the solemn ceremonies. In his brief tribute, he announced that a suitable memorial to Surender Singh would be raised at the Central Park of the town.
Rajasthan Chief Minister Vasundararaje Scindia described the tragedy as a double blow for her. "Some time back I lost my brother Madhavrao in a similar crash. In Surender Singh I have lost another brother", she said.
Haryana Congress chief Bhajan Lal said Surender Singh's death was a big blow to him personally as well as the party.
Finance Minister Birender Singh described the dead minister as his political mentor. "In 1972 it was he who brought the party ticket for me to contest my first election", he said, adding that his departure was an irreparable loss.
Others who attended the ceremony included Cabinet colleagues of Surender Singh, Congress leader R. K. Dhawan, Union Minister Prem Chand Gupta, BJP leaders Sushma Swaraj and Shahnawaz Hussein and INLD MP Ajay Chautala.