Glass set to occupy the centrestage!
Jagvir Goyal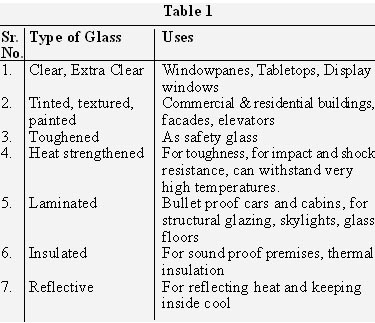 A few years back, nobody had guessed that glass, considered to be a fragile material, would vie to occupy the centre stage of the industrial sector in the 21st century. Today, it seems that the global construction world has caught a fancy for glass. India, too, has taken the cue.
Infosys headquarters in Bangalore has used a lot of glass. It reflects the landscaping to create a beautiful and aesthetic view. L&T crossroads project at Nariman Point, Mumbai, has used so much of glass that a feeling of total transparency and openness fills you up. A score of ultramodern buildings are now coming up in the metros where extensive use of glass has been made.
Ease of installation, stunning looks and amazing flexibility are making glass a favourite material to choose. Even after 10 years, a building gives a new look and never needs repainting.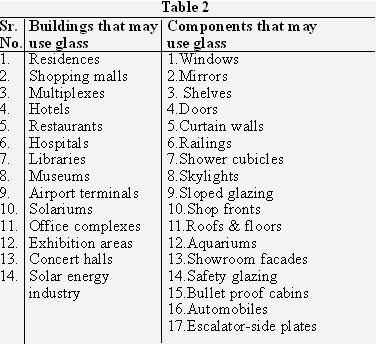 Today, glass is being produced in so many kinds that the general impression of its production in plain sheets is totally defied. Table 1 shows various types of glass being produced and their uses. Glass can be clear, extra clear, tinted, textured, reflective, bent, toughened, heat strengthened, laminated, insulated, coated, painted, etched and acid washed. The general phobia that glass is a fragile material has been erased and its strong structural potential has now been accepted.
Purpose
Basic purpose of glass wherever used is to allow light inside, to add aesthetic beauty and to enclose yet expand a space. At the same time, its purpose is to disallow rain, wind and heat. Counting the types of buildings where it can be used, the list is a long one. Table 2 shows the buildings and components where glass is being put to use these days. Yet this is not an exhaustive list.
At present, India has 11 units with 8.2 lakh tonne annual glass production. More glass manufacturers are coming up in India in view of its acceptability graph showing a consistently rising trend.
Per capita consumption of glass in India is just 0.5 kg as compared to 2.5 kg in Indonesia, 3.5 kg in China and 14.0 kg in Japan. European countries are using more of glass as they need to bring more of sun to the interiors of their houses. This is not the case in India. Yet its class, multiple uses, aesthetic value, negligible maintenance, including no painting every second year, are attracting more and more Indian builders towards it.
Solutions have been found with glass to keep heat, noise and burglars out. Today, shatter proof glass, generally used for shop fronts, will take five hours to break if beaten by a bodybuilder with a sledgehammer. This one example tells the range of glass being produced. However, Indian engineers still consider it expensive. The day its cost falls within Indian building estimates, glass will revolutionise Indian construction industry.