Great Step FORWARD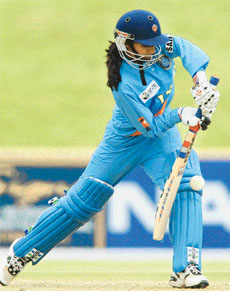 They may have proved their mettle by entering the World Cup final. They may have made cricket lovers sit up and take note of them. Still, much needs to be done to popularise and promote women's cricket in the country, writes Vikramdeep Johal

A few days before the 2005 Women's Cricket World Cup began, a schoolgirl from Patiala, Tarika, wrote a letter to The Tribune expressing her displeasure at the excessive media coverage of men's cricket. She found it unfair and unreasonable that star players' visits to salons or temples became big news, while Mithali Raj's record-breaking batting performance did not.
The Indian team has an inspiring captain in 22-year-old Mithali Raj, who braved a strained knee to play in the final

Get fit, the hard way
A study conducted by researchers has revealed that adolescents who undergo vigorous physical activity on a regular basis tend to be leaner and fitter than their less active peers.
She has designs ON MEN
When Rajvi Mohan, who studied fashion in Britain and the US, was trying to decide what kind of clothes she wanted to make, she zoomed in on men's wear — because only a woman can tell a man what he looks best in.
Somethin' for Britney
Britney Spears is stunned her latest song Do Somethin' has become an instant hit in the US — even before being officially released. The "Toxic" beauty's ballad entered the Billboard chart at number 100 this week despite the fact her label Jive Records has not officially released or promoted the song, reports Ireland Online.