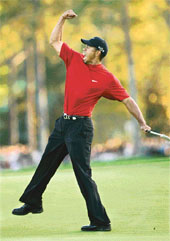 Tiger below par, yet on top
Tiger Woods is back. Or is he? The 29-year-old American is back at the top of the official world rankings and has returned to the major winner's circle, but he is certainly not the dominant figure of five years ago. Although he clinched the ninth major victory of his career in a playoff for the US Masters on Sunday, he did so in spite of a decidedly scrappy finish. Two strokes clear with two holes to play after producing a miracle birdie at the par-three 16th, the Woods of 1999 and 2000 would have closed the deal with minimal fuss and clinical precision.
Tiger Woods
Man of the Match
During the India-Pakistan Test series, Pakistan allrounder Shoaib Malik made news even though he did not play in any of the three matches. The reason — his secret marriage to Ayesha, the Jeddah-based daughter of Hyderabadi parents. Now he is making news for what he is well known for — attacking batting and crafty bowling.
Sania makes cyber waves
Tennis sensation Sania Mirza's career record is 106 victories to 24 losses, her total earnings are $129,000, she's a Brad Pitt fan, her favourite movie is Ocean's Eleven and her favourite colours are red and black.
IN THE NEWS
Mukesh on a roll
Wielding his golf clubs like a magic wand, Mukesh Kumar is winning everything in sight and making a lot of money. Last week, he fired seven-under in the last round for a tournament aggregate of 30-under 250 to notch up his sixth Amby Valley PGAI Tour title win at the DDA Open Golf Championship.