Man with the Midas touch
HE is that genius who turns everything he touches into gold. Madath Thekkepat Vasudevan Nair is the most famous Malayalam writer, who has set benchmarks in many fields ó short story and novel writing, film scripting, film direction and journalism.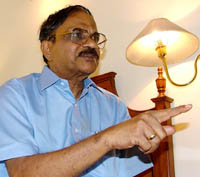 ó Photo by Rajiv Tyagi
MTís writings capture the inner conflicts of alienated people caught at the crossroads of life, not knowing whether to turn back or move forward. He gives a limpid form to elusive dreams and sorrows of marginalised souls. Govindan Kutty, the protagonist of his highly acclaimed novel Asuravithu (Demon Seed), who represents the dehumanisation of the humans by an insensitive society, aptly illustrates the magical realism of MTís illuminating prose.
His characters have been drawn from his surroundings, mostly from the crumbling feudal Nair families, severely impacted by the land reform movement.
The world created by MT in his acclaimed novels like Nalukettu, Asuravithu, Manju, Kaalam, Vilapayatra and Randamuzham radiate haunting drama, heightened by the poetic quality of his prose.
MT was first noticed when his short story Valarthumrigangal (domesticated animals ó a story of the silent sobs of the circus artistes) won the first prize in a short story competition organised by New York Herald Tribune, The Hindustan Times and Mathrubhoomi. His Sahitya Academy award-winning novel Nalukettu, which has been translated into Punjabi as Char Diwaari Wich, has sold over five lakh copies in Malayalam alone ó a record for an Indian author.
MT has penned nine novels, 18 volumes of short stories, two travelogues, five books of literary studies, including one on his favourite author Hemingway, a play and two books for children.
He also evolved a highly evocative Malayalam film idiom with his very first movie Murappennu (First cousin). The film won the Presidentís silver medal in 1965 and MT has not looked back since. Over the years, MT has won numerous awards for film scripting and direction. Nirmalyam, a film scripted, directed and produced by MT, won the Presidentís gold medal in 1973. He has won several state, national and international awards for his fiction and films, including the Padma Bhushan, the Jnanpith in 1996, and the Kerala and Kendra Sahitya Academy Awards. At present, MT is the chairman of the Thunchan Memorial Trust, which is an ideal getaway for writers and authors from all over the country.
MT was recently in Delhi to receive the Padma Bhushan Award, and opened up in a freewheeling interview. Excerpts.
You enjoy an almost divine status in Kerala. You have earned the reputation of a man with the Midas touch. How do you evaluate MT the author from a readerís perspective?
I come from a family with no literary background. As a young boy, I had to tend cattle, and help out elders in farming. There was always that inherent danger of being branded as a "good farm hand and a cattle tender" if you did a good job it. Fortunately, I had great love for books from a young age and read all the publications and books brought home by my brothers.
You are a chemistry graduate, who taught in a couple of schools and worked as a gramasevakan at a block development office before becoming a successful author, script writer and film director. How did these experiences shape up your life?
Deep within me, I had always longed to be an author. But family circumstances did not allow me to have a decent education. I had to break education after high school, and when I joined college, I was advised to opt for the science stream as it was felt that a degree in science secured a job faster than any other degree. But after I came out of college, it was a great struggle to get a job. I taught in a couple of schools and in a tutorial college for two years before joining the Mathrubhumi weekly as a journalist.
Which profession did you enjoy the most?
My ambition was to become a college lecturer not because of the prestige associated with the job, but because a lecturerís job entailed three and a half monthsí annual leave, which would have given me time to pursue my literary works. And the college library would have given me access to books. But I did not have the requisite qualification to become a college lecturer as I was just a chemistry graduate.
Your evolution as a writer?
I learned from "trial and error." I used to write from an early age, as I thought that it was a game I could play alone. When I was studying at Victoria College in Palghat, several of my stories were published in literary magazines like Jayakeralam. But I kept my literary forays to myself. Slowly, people started taking note of my writings, and I developed a rapport with my readers. I have been able to maintain that rapport as I write in a language understood by all. I have trust in my readers and they have trust in me. The day I lose that mutual trust, I will stop writing. Readersí support is motivating me to keep going (he is 72 now).
Did you have any role models?
I adored the writers who preceded me but I did not emulate them. My four years at college greatly influenced me. I extensively used the college library. A couple of teachers in my college also guided me, advising me to read in a chronological order and read works of great authors.
What helped you chisel your literary style?
The classics I read at the college library and poet Akkitham Achuthan Namboodiri, from whose house I used to borrow books, were great influences.
Your stories touch upon the lives of people condemned to poverty yet possessing strong characteristics. Do you draw characters from your surroundings?
A lifetimeís experience is not enough for an author to fully comprehend the mysteries of life. Some of my stories are based on personal experiences and observations while in others, I have used the images of stories narrated to me by my mother and other elders. And the third kind of inspiration comes from something you have read somewhere.
When you look back at your eventful life, how do you assess it?
I have not been able to write all I wanted to write. Perhaps, if I were a free-lancer, I might have had more time. I think my best work is yet to come.
The best compliment you have ever got?
Recently, after reading my latest book Ammaikke (To Mother), several readers complimented me on its simple language. I use rural terminology and local metaphors in my writings. Language should not be like a hard shell. It should be like the skin on the body as the readers should be able to feel the pulse.