No redrawing of borders, PM tells Pervez
*India committed to Indus Water Treaty
*Joint Commission to be revived
T.R. Ramachandran
Tribune News Service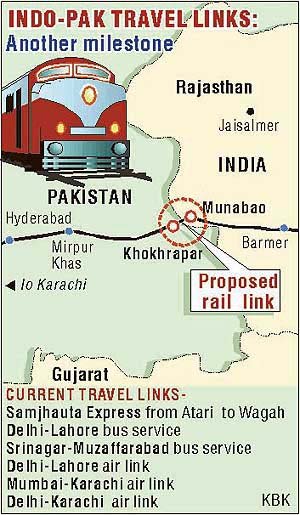 New Delhi, April 17
Adopting a positive and forward looking-approach, India and Pakistan today decided to enlarge economic and commercial ties aimed at making South Asia a dynamic pole in Asia and the world without undermining the difficulties in dealing with the Kashmir problem as well as other ticklish bilateral issues.

Outlining his vision for South Asia with India and Pakistan as the two largest economies, Prime Minister Manmohan Singh told Pakistan President Pervez Musharraf that it was imminently possible to transform the economic prospects of this region. In his response, General Musharraf underlined the need for dovetailing the energies of the two neighbours for improving the plight of the people through common and shared prosperity.

At the extended talks here, the Prime Minister made a pointed reference to the joint statement issued on January 6 last year in Islamabad and noted that the assurance given by Pakistan that it would not allow use of any of its territory for terrorist attacks against India had "opened new opportunities for taking the relationship forward." Both countries had the responsibility of ensuring that the positive ambience was not vitiated and thwarted by the acts of terrorist elements. Controlling terrorist groups was important as it impacted adversely on the Indo-Pak peace process.

Dr Manmohan Singh reiterated that it was not possible to redraw the boundaries in tackling the Kashmir tangle and underlined the need for bringing together the people of the two countries through greater cross-border trade across the spectrum. He had no doubt this would help the ongoing peace process to address more complex issues affecting the two countries. He expressed India's readiness in dealing with contentious issues and taking the dialogue forward and remaining engaged.

General Musharraf acknowledged that the confidence-building measures (CBMs) had made a lot of progress and called for intensifying them without imposing any deadline in finding a solution to the Kashmir issue.

With New Delhi stating that the Khokrapar-Munabao rail link will be ready to roll from the Indian side on October 2, General Musharraf said Pakistan might be found wanting in sticking to that schedule but they will definitely be ready by December.

The two leaders decided to revive the Indo-Pak Joint Commission which had not met since 1989. They directed that the commission should meet at an early date and act as an umbrella for economic and border-related issues. Simultaneously, the work of the Joint Business Council in the private sector should be given added impetus. India offered to remove any barriers on the tarriff or non-tarriff front to facilitate Pakistan business.

Dr Manmohan Singh stressed that in developing economic and commercial ties, it was important to strengthen transport linkages as well as infrastructure and look at more routes for trade. Detailed discussions in this regard are on the anvil, foreign secretary Shyam Saran said briefing mediapersons.

He conveyed to General Musharraf that 156 Pakistani fishermen were to be released on April 19. Another 136 civilians from the neighbouring country would be released once their travel documents were made available by Islamabad.

As a humanitarian measure, Dr Manmohan Singh and General Musharraf stressed that those who strayed across the border inadvertently should be handed back promptly without much ceremony on both sides.

On Siachen and Sir Creek, the two leaders instructed officials to show a greater degree of urgency by according priority to resolving them. In respect of the Baglihar dam, Dr Manmohan Singh unequivocally expressed India's

commitment to adhering to the Indus Water Treaty. He maintained that India had no intention of harming the interests of Pakistan. If Pakistan desired discussions on the technical details of the Baglihar dam, "we are ready to resolve it."

Dr Manmohan Singh stressed that benefits acrue to India and Pakistan by opening transit routes for normal trade with Central Asia, the Gulf and this region.

The Indo-Iran pipeline as well as from Turkmenistan should be discussed as both the leaders felt that it was a worthwhile project to pursue to meet the growing energy requirements of the two countries. The two sides will hold further discussions to realise this project. "This forms part and parcel of the economic development of India and Pakistan. We ought to be thinking about it," Dr Manmohan Singh said.

During the Dr Manmohan Singh-General Musharraf discussions, the two leaders recognised the positive elements that have been thrown up during the past 15 months leading to a greater degree of confidence if not complete mutual trust. It has become all the more necessary for the two sides to do whatever is necessary so that cracks do not develop in pursuing incremental steps and moving forward. It is in this context that Dr Manmohan Singh's desire of walking the road to lasting peace between India and Pakistan assumes significance.