New bodies for old souls
Men and women in their seventies and eighties are fuelling the boom in cosmetic procedures. Maxine Frith looks at the makeover trends in the UK.
While demand for surgery has remained stable among the younger generation, it is their grandparents who are increasingly paying out for facelifts, nose jobs and other youth-enhancing operations.
Research by the British Association of Aesthetic Plastic Surgeons (BAAPS) has found that old age pensioners now have the money and the motivation to go under the knife in a bid to look a few years younger.
Septuagenarian men who have much younger wives are paying for surgery to equalise the physical differences in age, while improved techniques mean that surgery can be safe even for 80-something women.
The BAAPS audit of 119 of its members in private practice found that last year, 16,367 procedures were performed, compared to 10,738 in 2003.
Breast enlargement was the most popular operation, with more than 3,000 carried out in 2004, along with 2,470 reduction procedures.
Eyelid surgery, nose reshaping and facelifts were also among the top five procedures. For the first time, surgeons were also asked about any age trends they have spotted in the people coming forward for treatment.
There have been concerns that more and more teenagers are demanding surgery as a result of increasing pressure to live up to the look of super-slim models and plastically-enhanced celebrities.
However, most surgeons said the number of teenagers and younger patients had stayed the same over the past five years, while an increase had been observed in older age groups.
Adrian Richards, a consultant surgeon who runs The Gatehouse Clinic in London, said: "We are now seeing people who, 20 years ago, would not have dreamt of having cosmetic surgery but have now changed their minds.
"The techniques have got better and safer and I think older people are more prepared to consider it now.
"The only problem is having the general anaesthetic, and with someone in their 70s or 80s we would only go ahead if they were considered to be in the lowest risk category.
"But nowadays we often see older people who are fitter and healthier than someone in their 40s, and there is no reason why they should not have surgery." In recent months, Mr Richards has performed otoplasty (pinning back prominent ears) on a 65-year-old man, a face lift on a man of 76 and a breast reduction on a 77-year-old woman.
"Older people now increasingly have the money to pay for things that weren't available to them 10 or 20 years ago," he said.
"The man who had otoplasty told me that he had been teased all his life about his ears and now he finally had the money to do something about it, he was going to have it done.
"We also see men who have married younger wives and want to take 10 years off their face.
"One man I saw said that when he picked up his children from school, he looked older than all the other parents and so wanted a face lift.
"People are now working into their 60s and 70s, and are staying active and therefore continue to take care of the way they look." While patients in their 20s and 30s want to radically change the shape of their bodies through cosmetic procedures, older people merely want to "turn the clock back a bit," according to surgeons.
A recent report by the think tank Demos also identified the latest generation of pensioners as "the new old" who are determined to combat the ageing process by buying youthful brands, adventure holidays and cosmetic surgery.
Market analysts now spend time trying to chase the "grey pound" as Britain's ageing population has become increasingly wealthy and willing to spend money on their own looks and wellbeing.
Douglas McGeorge, president-elect of BAAPS said: "We live in a well-off society where people now retire to start a new life.
"Social stigmas about cosmetic surgery are less common, and as they young, people want to look younger. "My oldest face lift is 81 and the oldest set of eyes 82. "Although some teenagers do enquire about cosmetic surgery I can't say that the numbers are large or noticeably increasing."
— The Independent
Man-like woman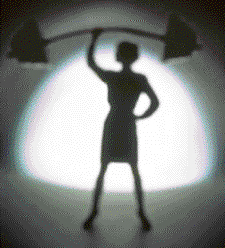 If Henry Higgins were alive today he would have got the answer to his question Why Cant A Woman Be More Like A Man? that he asked in the classic film My Fair Lady. A new research has revealed that the modern 21st century women have more in common with their menfolk than ever before.
According to The Independent, the research by Patricia Hewitt, the Secretary of State for Trade and Industry in Britain, provides a bird's eye view of women's public and private lives in today's Britain, charting dramatic changes in education and employment.
The report reveals that today's empowered and liberated woman likes to go out for drink with her friends, is probably trying to quit smoking, likes to drive herself and is increasingly likely to spend much of her life in boardroom rather than the bedroom.
Women are also doing better than men, especially at school and university. Women are more mobile than ever before with a third reporting that driving is their main form of transport and 61 per cent holding a full driving licence.
Even the difference in life expectancy, 80 years compared with 76 for men, is predicted to narrow over the next 25 years. "Life in general for women now means a lot more stress. There is little difference between the lives of men and women and both end up doing almost the same things. Except that women have to juggle a lot more than men have to," the report quoted Beatrix Campbell, a prominent feminist writer's views. (ANI)