Breaking fresh ground
Aditi Tandon on the new Punjabi film Addi Tapaa

For those who dare to depart from the norm, the going is almost always tough. So it will be for the ingenuous UK- based film director Jeet Matharu, whose maiden film Addi Tapaa is anything but run of the mill. Structured to suit modern Punjabi sensibilities, this all-girl cast film opened to a full house in Chandigarh's Piccadily Theatre last week.
A unique venture, the film builds up as Matharu's tribute to the Punjabi spirit of enterprise and an expression of his aspiration to cast obscure talent in significant moulds. For these and various other reasons, Addi Tapaa easily passes off as a trend-setting Punjabi film which hit cinemas across Punjab and the world last week. The first city to get the taste of Matharu's genius was Amritsar, which can well be termed the film's cradle.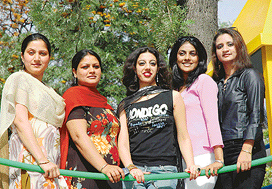 The all-woman cast of Addi Tapaa: Richa Shukla, Aashima Sabikhi, Parul Kakaria, Meenu Sharma and Vibha Bhagat

It is well known that Matharu, who has a history of meaningful association with filmmakers like Raj Sippy, Manoj Kumar and Umesh Mehra, hand picked the entire film cast from BBK DAV College of Amritsar. The College has a reputation for histrionics and the talent of its students held Matharu spell bound when he went to test them for acting skills.
On the eve of the film's premiere in Chandigarh, producer-director Jeet Matharu told The Tribune, "I was desperately hunting for talent when I landed in this college. And believe you me that was the best thing to have happened to me. The students staged before me a classic, heart rending account of the Partition in a play titled, Is jagah ek sheher si. That was the end of the search for me. I knew what I wanted."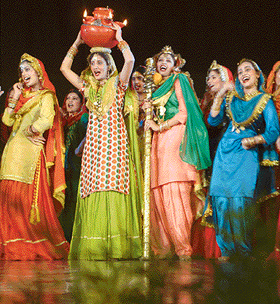 A scene from the movie

As the film opened in Chandigarh's Piccadily Theatre some days ago, everyone knew why Matharu believed in his choice so firmly. Here were five girls (Richa Shukla, Aashima Sabikhi, Parul Kakaria, Meenu Sharma and Vibha Bhagat) and 16 others, all strangers to the camera literally. But on screen they appeared anything but flustered. Handling a theme as challenging as a murder mystery they drove home the production, and quite brilliantly at that.
Not even once was anyone tempted to leave the hall. From start to finish, the script threw up such interesting bits of suspense that the viewers' imagination remained perpetually on fire. The story raced from one plot to another, making room for suspense and then building on from there. Had it not been for the language, the film would easily compare with any top -rung masala mix eligible to hit the box office, at least by Bollywood standards.
Like the film's cast, which has been sourced from Punjab, its music also has a heavy local flavour. Besides its classy choice of lyrics and situations for songs, the film impresses on several other accounts. Three main singers — Wadali brothers, Inderjit Nikku and Nakshattar Gill – are a part of the storyline. Their songs are not just thrust on the script, but are well-entrenched into it.
According to the director tells, "I created situations whereby songs became complementary to the script." Music is by Punjab's Gurmit Singh, who has been twice nominated for ETC awards in the best music direction category.
On the technical front too, the film casts a spell. It is clear that the director has not compromised on any aspect of production. He has used Dolby digital sound, and has ensured his film becomes the first Punjabi film to have been shot with lavish audiovisual effects.
It has 45 minutes of reverse shots, which would have cost its maker not less than Rs 14 lakh. It has a heavy presence of smoke for special effects. The director says he worked 200 hours on smoke, which means another Rs 12 lakh.
In totality, Addi Tapaa has many elements that should hold it in good stead. But the going has not been so smooth for Matharu and his film, not yet. In competition are much-hyped releases of the order of Salman Khan-Sneha Ulal starrer Lucky, Mumbai Xpress and Thodaa sa meetha ho jaaye…
The past week has been sort of disheartening for the cast of the film, which worked very hard to give the starved Punjabi audience some taste of good cinema. Indo-Pak matches have been stealing the precious audiences. But now that the cricket season is over, Matharu and his crew might well expect a trend reversal. He hopes the Punjabi audience will to rise to the occasion and endorse his passion with their enterprise. Addi Tapaa is, after all, their own film.