PUNJAB

HARYANA

JAMMU & KASHMIR

HIMACHAL

REGIONAL BRIEFS

NATION

OPINIONS

MAILBAG

BUSINESS

SPORTS

WORLD

Monday, April 25, 2005, Chandigarh, India
Updated at 3:00 am (IST)
Manmohan calls for restructuring of UN
India represents Asia at summit
Bandung, April 24
Reflecting its enhanced stature in world affairs, India today got a rare honour when Prime Minister Manmohan Singh spoke for the whole of Asia at the signing ceremony of a historic Asia-Africa strategic partnership agreement and advocated reforms in the United Nations and international financial institutions.


In video (28k, 56k)

India flexible on SAARC summit schedule
Jakarta, April 24
India has said it was ready to accept any suitable date for the twice-postponed SAARC summit in Dhaka if it was acceptable to other members of the seven-nation grouping.


In video (28k, 56k)



Editorial: Arms aid to Nepal
CAST YOUR VOTE
Is it fair to seek the resignation of Railway Minister Laloo Prasad Yadav over rail safety?


FORUM

EDUCATION

JOBS & CAREERS

HEALTH & FITNESS

SCIENCE & TECHNOLOGY

SPORTS

SOCIETY

TRIBUNE CLASSIFIEDS

BRIDES WANTED

GROOMS WANTED

OTHERS

HOW TO PLACE ADVTS


Probe into attack on Laloo

Report in 3 months
Ahmedabad, April 24
In an apparent pre-emptive move to stonewall any action by the Centre, the BJP government in Gujarat has ordered a judicial probe into the attack on Railway Minister Laloo Prasad in the state.
In video (28k, 56k)


BJP unfolds 'pack of lies'
New Delhi, April 24
Three days after Railway Minister and RJD supremo Laloo Prasad Yadav charged the Gujarat government of orchestrating a "murderous attack" on him, the BJP today demanded his dismissal from the Union Cabinet for "misleading" the country by making false accusations.

THE TRIBUNE MAGAZINES
On Sundays

On Saturdays

Shahabuddin's house raided
Arms seized, three arrested
Patna, April 24
The police in Bihar raided the ancestral home of controversial RJD MP Mohammad Shahabuddin in Siwan district early today, seizing arms and ammunition and arresting three persons.
India sees foul play in reports on nuclear issue
New Delhi, April 24
The Government of India smells a rat in recent reports in the international press casting aspersions on Indian nuclear programme.

Rare bleeding case treated
Kolkata, April 24
Treating a rare case of abnormal bleeding from the gastro-intestinal tract, a doctor-duo here have saved the life of a teenager employing a hitherto unused combination of diagnostic procedures to pinpoint the source of his profuse blood loss.


Train collision suspect nabbed
Vadodara, April 24
Bhodu Puna, one of the two railwaymen wanted in connection with the Sabarmati train accident, was nabbed by the Government Railway Police (GRP) from his native village, near Godhra, last night. — UNI
Pak woman training Indian jail inmates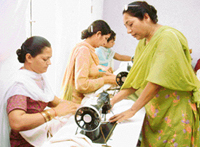 Amritsar, April 24
The blustering bonhomie on both sides of the Radcliff line notwithstanding the friendly hand being extended by Ms Huma Parveen, a Pakistani national, to her Indian jail inmates in learning cutting and tailoring has never caught the attention of media.
Ms Huma Parveen, a Pakistani national, trains Indian inmates in cutting and tailoring in Central Jail, Amritsar, on Saturday.
— Photo by Rajiv Sharma


QUOTE OF THE DAY
Through the summit, we have revisited an important chapter of our history in the 20th century.
— Dr Manmohan Singh
Military aid for Nepal
April 24, 2005

PM meets King today
April 23, 2005

17 killed as trains collide in Gujarat
April 22, 2005

Phukan report to be tabled in House
April 21, 2005

Parivar in trouble
April 20, 2005

India, Pak give a push to peace process
April 19, 2005
No redrawing of borders, PM tells Pervez
April 18, 2005
I've come with open mind: Pervez
April 17, 2005
India, Pak must fight terror jointly: PM
April 16, 2005
US vows stronger ties with India
April 15, 2005
PM ready to meet Hurriyat leaders
April 14, 2005
Wen for border as peace zone
April 13, 2005