Wednesday, April 27, 2005
Wheels of progress
The setting up of state-of-the-art driving schools by Maruti has opened a new job route for youngsters, especially girls. On the lookout for instructors and other staff, these schools are set to be the next hot stop for youth with drive, writes Inderdeep Thapar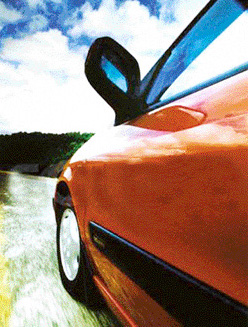 It is a common sight, especially in the early hours of morning, to find the local breed of driving school owners taking nervous women or tense senior citizens on a learning ride along the city's green roundabouts and open avenues. Well, these home-grown driving instructors are in for stiff competition now, with Maruti Suzuki coming up with a brand new, state-of-the-art driving school in City Beautiful.
This driving school, being run in the city's Industrial Area (phase II), is the only one in north India and one among the three sanctioned by Maruti across the country. The people employed in this school are not run-of-the-mill instructors but professionally trained people.
Professionally driven
To join as an instructor in Maruti's driving school one needs to be a graduate with a valid light motor vehicle commercial licence and undergo an 18-day rigorous training schedule at the Institute of Driving and Training Research, Delhi.`A0It is only after qualifying in the theory as well as practical papers of this course that these instructors are ready to embark on a teaching journey.
Car seva
"Most of the existing driving schools do not teach about traffic rules or give attitudinal training. What makes this school different is that its course is methodical and comprehensive," claims Ritu Joshi, who is heading the school.
The job of a driving instructor entails conducting a one-hour theory session followed by a demonstration session, giving the feel of the vehicle on the simulator and then putting the learner on to chalked out routes.
Says Vidya Devi, one of the instructors, "Though I have done my postgraduation in English, I have always been fond of driving and wanted to teach. Therefore, when an advertisement for recruiting female instructors along with males appeared, I jumped at the opportunity."
"We are known as 'instructors' and not 'drivers' since we are professionally trained and teach in proper classrooms with the aid of practical devices like simulators," she adds.
The course is exhaustive and covers various aspects like safe driving practices, habits`A0 and behaviour of a good driver, ways to read road signs, parking methods, fuel conservation, preventive maintenance of the vehicle, wheel changing and so on. The course, spread over a period of nearly 25 days.
Road to growth
The instructors have bright prospects with a career graph that promises to take them to new heights. Starting off as a junior instructor, they go on to become a senior instructor, then head instructor, followed by co-ordinator, deputy manager and then manager.
The start is around Rs 5000 with incentives.
The school has thus opened a new door, especially for girls, in a field that has so far been dominated by men. Says Vidya Devi, "My family and neighbours were delighted when they learnt that I'd been selected as an instructor. Nobody raised eyebrows, for the job is safe and prestigious."

Inroads into a male domain
Ditto for Harpreet and Neelu Grover, the other instructors at the school. "It was not a totally new experience for me as earlier I was working in a two-wheeler company, " says Harpreet . "But yes, this is a novel experience, especially the training stint in Delhi. I am proud to have entered a hitherto male-dominated field," she adds.
Neelu Grover, who is married with a young son, explains, "An instructor is a teacher and it makes absolutely no difference whether the students are housewives or senior citizens. Our clients give us the same respect as they would to any teacher."
This is thus a new opening that can literally drive you places.