Dance girls in Mumbai protest against the Maharashtra Government's action.
— PTI photo


The Maharashtra Government's move to ban dance bars has created a furore. At issue is the livelihood of five lakh people, including dancers, owners and bar hands, in this Rs 1500-crore unorganised industry, besides the dangers of moral policing.
Vimla Patil reports.

The proposal to ban dance bars in Maharashtra has triggered widespread opposition, and not only from the few lakhs who stand to lose their jobs. Many prominent public figures, including lawyers and activists, have taken up cudgels for the bar girl. These 'liberals,' as they have dubbed, insist that work is a fundamental right of those facing the axe. But Deputy Chief Minister and Home Minister of Maharashtra R.R. Patil, the man behind the ban decision, argues that dance bars are dens of crime and anti-national activities and have to be controlled.
"We don't wish to be the 'moral police' as the media describes us but no one can dispute the government's responsibility to maintain law and order," he says.
But last week's developments have dealt a blow or two to the moral policing business. A Bombay High Court squashed an "obscenity case" against a Nagpur dance bar. It ruled that the obscenity at the dance bar "didn't cause any annoyance to anyone. And then Congress president Sonia Gandhi, giving a patient hearing to a group of bar girls from Mumbai, promised to look into the matter. Another setback to the proposal came with the NHRC seeking comments of the Maharashtra Government on its reported decision, and star MPs Sunil Dutt and Govinda vociferously protesting against the proposed clampdown.
What is the truth behind the issue? Who are the affected people? Where do 'bar girls' come from? What is the economics of dance bars? What are the existing laws? Let's find out.
With so much public opposition to the banning of dance bars — first in various parts of Maharashtra and then in its capital Mumbai — the Maharashtra Government is changing its stand almost every day.
The ban will affect only 'dance bars' and not touch pubs, discos and performances at star hotels, says R. R. Patil. The government maintains that only those liquor dens, where women are exploited, where crime is spawned and where criminals act as bouncers, will be affected. "These are seedy joints. They threaten the peace and security of the local communities. We have to close them down." The minister also says that strict action would be taken against the owners of dance bars where Bangladeshi and other foreign girls are employed illegally.
It is also clear from the statements of various leaders of the Congress and the National Congress Party, which jointly rule Maharashtra, that both parties stand united on this issue. "Though our own MPs like Govinda, Rohit Patil and Sunil Dutt have condemned the proposed law, those are their personal views. The Congress and NCP are united in this decision," says Prabha Rao, Head of the Congress in Maharashtra.
Gurunath Kulkarni, the chief of the NCP, too, says that this is a joint decision of both ruling parties in the state.
At present, bars in Mumbai and Maharashtra are licensed to sell liquor and to employ dance girls whose movements are normally restricted to the stage area. Patrons are not allowed to dance with them or to touch them. Any activity tantamount to prostitution is prohibited. The bar owners have to pay a large monthly tax amount to obtain such a licence. The dancers are not just from Maharashtra but come from all over India as well as from Nepal, Bangladesh and many East European countries. The rush of thousands of girls to dance bars in Mumbai is due to the huge money they can earn. The earnings are estimated at over Rs 1 lakh a month at hi-end city bars. Reports say that garlands and umbrellas of currency notes are made by drunken patrons and offered to their favourite bar dancers. The minimum income a bar girl makes is about Rs 25,000 per month.
Most bar owners offer security to the girls and provide safe transport to return home after work, which ends at 1 or 2 am. Many bar dancers are married and have children. The clients come from all strata of society. Of late, there have been more college students, young corporate adventurers and even schoolboys who bribe and get in whenever they can.
As Madhur Bhandarkar's award-winning film Chandni Bar showed, bar dancers are often brought to the city by relatives who exploit their youth to make money. Some are sexually abused by men. The condition of such girls is often pitiable. Many are the sole breadwinners of their families if the husbands are alcoholics or absconders. There are also girls who voluntarily work in dance bars for money. It is possible that bars could be meetings places of crime lords, corrupt officials and exploiters of women.
Those speaking for this industry say that there are 75,000 dance bar girls, whose jobs are under threat. This will cause a major employment problem for this large section of people whose families depend on the incomes of the girls for their livelihood. The government, however, says that the number is highly exaggerated and actually there are only 11,000 women employed in bars.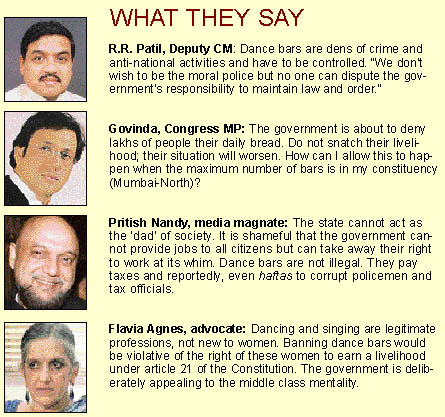 "We have asked the bar owners to provide us with authentic lists of their employees," says R. R. Patil, "It is possible that they are not giving us the complete lists. But our investigations tell us that these bars are the addas of crime and exploitation of women. They are meeting places for anti-social elements. Dance bar owners have themselves complained that they are meeting places for corrupt bureaucrats and criminals. We have reliable information about all the activities of the dance bars. Therefore, it is our duty to control their operations through legal measures."
However, the government is also aware that the law may not stand the test of democratic rights in the courts. To clarify the government's position before the court, the state's Advocate-General and senior police authorities are busy meeting with the government officials concerned to suggest a format for the law that can stand in a court and be really effective.
It has also been suggested by this three-pronged group that a revision of the police laws in the state can achieve a ban on bars that support crime and anti-national activities.
Whether the conclusions drawn by the officials will be acceptable to the courts is yet to be seen. At the time of writing this, a two-week reprieve was announced by the government so that every aspect of the proposed law could be honed before it is announced. With this reprieve, the dharna of the bar dancers and the agitation of bar owners was retracted and bars and dancers were back in business.

"It is typical of the government to first announce the law and then to set up a meeting of solicitors and officials to draft it," says Pramod Navalkar, who too was accused of being the 'moral policing chief' when he was Minister for Culture in the Shiv Sena-BJP government that ruled Maharashtra before the present combine, "This is akin to announcing the wedding of a daughter and then checking out the credentials of the bridegroom. It is important for the Government to research the history of the bar culture in Maharashtra before taking any decision. This culture is not new. Mujra dances and mehfils have been happening in Mumbai for ages. The most respectable families invited such dancers to perform in their weddings, parties and get-togethers. Rajas and rich families were known for arranging mujras and mehfils in their palatial homes. Mumbai has had 'pick-up joints' for over a century. I can list the venues where these activities were conducted in the past decades. Even today, on the Foras Road, Grant Road and Opera House there are homes of dancing and singing girls which are crowded with men from very respectable families who are called Sheths in Bambaiya language. Many Bollywood films showcase this lifestyle, where landlords, goons, criminals and dacoits have dancing girls perform before them. The states of Bihar, Uttar Pradesh and Madhya Pradesh too are known for this tradition.
"Lavni dancing, which is somewhat like the dances in the bars, is a cultural tradition of Maharashtra and has had generous political patronage because it is considered a 'folk dance'. These dancers, who perform at all-men gatherings, too have patrons throwing money (this is called daulatjada) at them. Thousands of Lavni dancers make a living through this tradition at regular halls in Maharashtra's cities and towns. Even politicians are known for patronising Lavni dancers.
"Since there is more money than ever before in the hands of young people today, the culture of mujra dancing and daulatjada has now moved to dance bars, which are open to common people. A huge amount of money changes hands at these bars every day. As was reported recently, one bar girl was found to have a flat and cash amounting to Rs 65 lakh. Earlier, discos were the order of the day. Here, patrons themselves danced on the floor and this was legally acceptable. In dance bars, patrons are not allowed to dance with the girls or to touch them. Changing the law will not control the bar girl or mujra culture because it has been a part of life in Maharashtra – and India – for centuries. Bars will be called something else, but they will remain a part of our nightlife. A legal ban cannot stop such activities and the government should know this," asserts Navalkar
Among those who are opposing the ban on dance bars vehemently are celebrities like Pritish Nandy, Alyque Padamsee and Mahesh Bhatt as well as several social activists. "The state cannot act as the 'dad' of society," says media magnate Pritish Nandy, "The government wants to curb our rights and privileges, and in this case, it is taking away the fundamental right of the bar girls to work. The government is taking away the jobs of not only bar dancers, but also of lakhs of waiters, bar tenders, stewards, cooks, bouncers, cashiers, security personnel, errand boys, and vehicle drivers.
"It is shameful that the government cannot provide jobs to all citizens but can take away their right to work at its whim – and that too, only in Maharashtra. Dance bars are not illegal. They pay taxes and reportedly, even haftas to corrupt policemen and tax officials. The government has every right to punish those bars that conduct illegal activities – like doubling up as pick-up joints or supporting crime – by cancelling their licences. This is done in the case of pharmaceutical companies, which adulterate drugs. But because of one company's crime, all drug companies cannot be closed. Will the government close down Mantralaya because some officials ask for bribes? We don't need 'patriarchal' politics in a democracy."
Mahesh Bhatt and Alyque Padamsee are deliberating on setting up a combine of NGOs, which would offer resistance to the government move to ban dance bars and would fight for the bar girls' right to work. The Association of Dance Bar Owners is also gearing up all its might to challenge the law in the courts. A few activists, however, say that even a legal ban on dance bars will not affect Mumbai's energy-laden nightlife.
According to government officials, the diktat is easier to write than implement. The law, even if passed, will be extremely difficult to implement. "There is confusion as to which bars will have to be closed if discos, pubs and other places can operate. How will the segregation take place? There is immense opposition to the law and both bar owners, dancers and their supporters will fight the battle. The law has to be drafted carefully."
Meanwhile, R.R. Patil, the initiator of the ban, is busy collecting the 'dark truths' about bars and bar girls. According to him, they are breeding grounds for criminals. He claims that 11,000 girls are affected and that there are plans to rehabilitate them. "We have information that Central Government employees' residences in the Antop Hill area in Mumbai are let out to bar girls," says Patil, "We are writing to the Centre that if it does not want these dwellings, we would utilise them to house our police personnel."
There are no bets on which side will win — the government or the powerful section of the public that is up in arms.