The role of a lifetime
Andrew Gumbel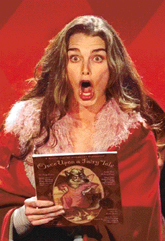 Brooke Shields: from teenage icon to Broadway stunner

THE more you learn about Brooke Shields, the more you marvel that her life story has pointed precisely in that direction: the nightmare of a stage mother who dominated her early years, the precocious exposure to fame and fortune, the sudden collapse of her film career, her subsequent struggles with wrenching unhappiness, the odd taste in boyfriends (Michael Jackson, Prince Albert of Monaco, George Michael), the disastrous celebrity marriage to Andre Agassi and, most recently, a very public lapse into post-natal depression.
She's written one confessional book about her life after another, the first of them published when she was just 12. All in all, it has been quite a rollercoaster ride for a woman who was once the world's most glamorous teenager but has had to learn the hard way that everyone, even Vogue cover girls, has to grow up and face the chill of adult life.
On this side of the Atlantic, one could be forgiven for losing sight of her altogether. Those bushy eyebrows and finely chiselled cheekbones of hers carry with them the unmistakable aura of a bygone era, right alongside shoulder pads, big hair and Filofaxes. Who could say what Shields has been up to, aside from the occasional regal appearance at Agassi's tennis matches, since she cavorted both chastely and nakedly (quite some combination) around a desert island in The Blue Lagoon 25 years ago? London audiences, though, are about to get a taste of a very different Shields from the one they might remember, as she prepares for a nine-week stint as Roxie Hart in the long-running West End production of Chicago. Ever since she stunned Broadway audiences with her gloriously against-type turn as bad girl Rizzo in Grease in 1994, it has become apparent on the other side of the Atlantic that this woman can both sing and act. Better still, she can be drop-dead funny when the mood takes her.
Since Grease, she's done Cabaret to equal acclaim.
Ever since Shields has slapped on the greasepaint and trodden the boards, in fact, her professional life has taken a marked turn for the better. Suddenly Susan, in which she played a magazine reporter struggling to make sense of her life earned her a Golden Globe nomination.
Work is almost certainly what has protected her from the disasters of her personal life. Shields has told interviewers very frankly about how prone she is to depression, and how the best way to ward off her demons is to keep as busy and fulfilled in her work as possible. As she told one television programme a few years ago: "It's the down time that I'm the most terrified of because that's when everything seeps in." From an extraordinarily early age, Brooke Shields was exposed to the limelight of publicity. And from an equally early age, she seemed well-nigh destined to become one more child star turned showbiz screw-up.
She appeared in her first film role at the age of nine and then hit the big time, and an ocean of controversy, when Louis Malle cast her as a pre-teen prostitute in turn-of-the-century New Orleans in his film Pretty Baby (1978). The subject matter, and Shields' moments of nudity, provoked a puritan hue and cry that marked yet another taboo-breaking moment in the 1970s and, more importantly from Shields' point of view, turned her into a household name. Shields continued the seductress theme in her next two big movies, The Blue Lagoon (1980) and Franco Zeffirelli's Endless Love (1981).
Artistically, however, both of these were walking disasters, completely lacking in the sexual passion supposedly driving their storylines of forbidden teenage love.
These films highlighted a curious paradox about Shields: that for all her beauty and physical perfection, she was always strangely unsexy.
In her autobiography On Your Own - her second, written at the age of 20 - she proudly proclaimed her virginity, even as she complained that her college classmates were too intimidated to come near her. She went to Princeton University, where she specialised in French and wrote her dissertation on the films of Louis Malle. She graduated with honours, giving the lie to all the sceptics who saw her only as a bulge of vital statistics. Her career, though, was badly stalled.
At the age of 26, she told one interviewer: "I get depressed and cry a lot. I worry about everything. And everything feels so heavy. In the past I used to throw myself into schoolwork or films, but I don't have those any more. I guess I feel this way because I'm finally growing up.
As she entered her 30s and her stage career began to bloom, she fell in love with Andre Agassi and they married in 1997. It was never a comfortable match, though. He was constantly on the international tennis circuit. They hardly saw each other, and separated barely two years after the wedding.
When she married husband number two, television writer Chris Henchy, here, too, she suffered, when she was knocked sideways by post-natal depression after the birth of their son Rowan in 2003. Shields chose, as she had so often in the past, to make her anguish public. Her book about her experience, Down Came the Rain, was published last summer.
— The Independent