OFF THE SHELF
Jinnah and Indian nationalism
V.N. Datta
Jinnah's Early Politics: Ambassador of Hindu-Muslim Unity
by Ian Bryant Wells. Pennanent Black.
Pages VIII+269.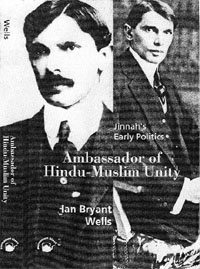 While attending a meeting during the discussions on the Cabinet Mission proposals in the Viceregal Lodge, Simla in 1946, Mohammad Ali Jinnah left his scribble which read: "Money lost, nothing lost; courage lost, something lost; honour lost, much lost, but when soul lost, all lost." Though lauded and revered as the Quaid-e-Azam and the architect of Pakistan, Jinnah is equally condemned as a self-seeking power-hungry, rigid politician whose activities and polices unleashed communal forces, which resulted in Partition.
Historians have generally focused on Jinnah's role in Indian politics from the Pakistan Resolution (1940) to India's Partition in 1947, neglecting the earlier phase of his political career. But Ian Bryant Wells, a coordinator of Intelligence Studies in the Faculty of Law, Queensland University, Australia analyses Jinnah's political role from 1910, when he was 34 years old, to his return to India in 1934 from his self-imposed exile in England.
The first four chapters narrate the events and circumstances that evolved Jinnah's thinking and political activities. He claimed that he had learnt the elements of politics "at the feet of Dadabhai Naoroji." As a delegate to the Congress session of 1906 from the Bombay Presidency Association, he acted as Dadabhai Naoroji's Private Secretary. He was elected to the All-India Congress Committee in 1910. To assess the possible future direction of British policies in India, he accompanied the Congress delegation to the Viceroy in 1913 and then to England. Gopal Krishna Gokhale respected Jinnah and thought of him "free from any sectarian prejudice", which "will make him the best ambassador of Hindu-Muslim unity". Sarojini Naidu hailed this pronouncement, which historians and public men have seized on as the most striking feature of Jinnah's personality.
Jinnah took his seat in the Imperial Legislative Council on January 25, 1910. He had disdain for a Muslim political organisation, though he attended the Muslim League meetings half-heartedly in 1910, 1912 and 1913. He joined the Muslim League in 1913. From his speeches and activities, it is evident that in the early phase of his career, Jinnah was undoubtedly a convinced and confirmed liberal deeply influenced by the Gladstonian liberalism. His favourite book was On Compromise by the Secretary of State for India, Lord Moreley, the exponent of liberalism. He culled from Moreley's book observations and statements, which he used in his speeches and writings to emphasise the importance of education, rationality and equality of law in the building of a democratic system of the government. In the first two decades of the 20th century, Jinnah is primarily seen as a Congressman, a firm constitutionalist who believed that politics has nothing to do with politics. For negotiating the Lucknow Pact in 1916, a tour de force, Jinnah was hailed as ambassador of Hindu-Muslim unity.
The author shows that during 1917-18, Jinnah participated actively in the deliberations of the Legislative Council and took up important civil and political issues. In 1917, he opposed the move to set up a memorial in honour of Lord Willingdon, the Governor of Bombay. For this fearless opposition, the public raised funds that resulted in the erection of the people's Jinnah Hall in the Congress compound in Bombay. In 1919, Jinnah supported Gandhi's anti-Rowlatt protests.
Chapter 4 describes Jinnah' s opposition to Gandhi' s non-cooperation programme at the Nagpur Congress in December 1920. While opposing the non-cooperation resolution, and addressing Gandhi as Mr rather than Mahatma, which the audience wanted him to do, and speaking in English, and not in Hindustani, Jinnah was shouted down to cries to shame, shame. From 1925, Jinnah moved away from the Congress. According to the author, the period was Jinnah's wilderness. Defeated by Gandhi, disowned by Khilafat leaders and despised by the British Government, Jinnah set up his own independent party, a far more Western political organisation in Legislative Assembly. With the inclusion of some Swarajists, he converted his independent party into a nationalist party, which lasted only for a short period.
Discarded by the political parties, Jinnah took upon himself the role of a mediator for settling the communal question aggravated after the Non-Cooperation Movement. He initiated the Delhi proposal, which dropped even the separate electorate. The Congress of Bombay and the Muslim League of Calcutta endorsed Delhi proposals in December 1927. But the Nehru Report turned the table by abolishing the separate electorate, which infuriated the Muslim leaders.
The author gives a detailed account of the various constitutional proposals which came up for discussion among various political parties during the All Parties Conference in Calcutta in 1928 and the Round Table Conference. At Calcutta, Jinnah's six-point proposal, including 33 per cent Muslim representation at the Centre, was rejected. Though Sir Tej Bahadur Sopru, while calling him a spoilt child, was willing to yield but M. R. Jayakar said eloquently that Jinnah represented no one but himself. Jinnah returned weeping to Howrah Railway Station and said to Arshad: "This is parting of the ways."
Wells explains why Jinnah left India to seek respite in London. His wife Ruttie had died. He felt frustrated, humiliated and embittered because he realised that he could not fit in the hurly-burly of wild Indian politics. Politics was not a gentleman's game. But essentially, he remained in the period under study a staunch nationalist who called his country his "motherland". This scholarly work warns us that in historical analysis, we must not examine leaders in a linear way. There are ups and downs in the vicissitudes of human affairs. To see things in black and white is unfair. Jinnah's subsequent politics took a different complexion. But why? That is a different story.