Hollywood hues
Damp squib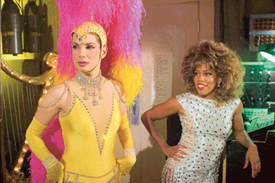 Sandra Bullock with Regina King in a scene from Miss Congeniality 2

A sequel to Miss Congeniality tends to typecast Sandra Bullock, writes Ervell E. Menezes
So, Hollywood's obsession with sequels continues and we have Miss Congeniality 2 : Armed and Fabulous giving us the further exploits of FBI agent Gracie Hart (Sandra Bullock) whose undercover work as a contestant in the Miss United States beauty pageant left more than fond memories of this ideal "girl next door" who has created her own persona as a shy, afraid-of-involvement, lonely woman.
Once again Sandra Bullock conforms to her single status because as Gracie Hart she has just split from her colleague boy-friend and so she has to immerse herself fully into her work. "Three weeks ago she was nice and amiable, or so a newspaper report screamed. She is "the new face of the Federal Bureau of Investigation (FBI)" and is quite easily recognisable in the streets because of the media coverage. Now, snorting under the break-up, she doesn't find the publicity elevating.


Return of Superman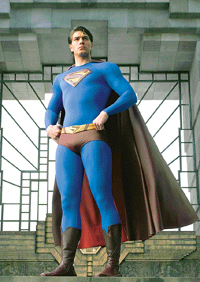 Actor Brandon Routh stars as Superman in the new film from Warner Bros. Pictures titled Superman Returns have been released and the film will hit theatres in June.

Preparing her for the new task are helpful colleagues like her boss (Ernie Hudson). She also has a personal stylist Joel (Diedrich Bader) who doesn't find her too co-operative. "This is like teaching a dog to be a butterfly," is his snide remark. Neither is her new partner Sam Fuller (Regina King) very co-operative. She's Black and has a thing about Whites. Then there's local FBI supervisor Collins (Treat Williams) who has his own agenda. So between zig-zagging between these wily characters and a gamut of unruly incidents we have Sandra Bullock, smirking, sulking, frowning and occasionally smiling in all of 120 minutes.
If one said the fare is absorbing it would be a blatant lie. The rapprochement between Gracie and Sam does come off well but the accent is on the action. From New York to Las Vegas to drag clubs and finally to a Treasure Island of sorts the fare is a best tolerable. The final showdown, when it eventually comes, is a bit of a damp squib. The saving graces, however, are the asides on Liza Minnelli and her Cabaret sequence and the a scene reminiscent of Isadora Duncan falling victim to her scarf.
Treat Williams makes an appearance after a long while and Regina Fuller overdoes her hostile act. William Shatner is not the shadow (in weight though, double) of his former self. As for director John Pasquin he seems more concerned with the glamour and glitz than with the story itself. Bullock too is tending to get type-cast and just because she produces the film doesn't give her an "open sesame." On the contrary, it is time she finds a new persona or else it will only be the road downhill for her. The sooner she realises it the better.