Fifty years on, the Ray lingers
The master's debut film still flickers as bright as ever as it prepares to travel one more time to Cannes, writes Saibal Chatterjee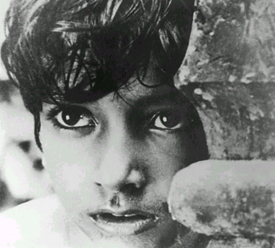 A scene from Pather Panchali

Magic moments from great films, like inspired pieces of quality art, have a way of everlastingly imprinting themselves on the collective consciousness of a nation, society and culture. Thousands of Indian films have been made since Satyajit Ray redefined cinema in this country half a century ago with the unforgettable Pather Panchali (Song of the Little Road), but nothing has come remotely close to replicating the sheer poetry and beauty of the sequence of the rustic boy-protagonist, Apu, chasing his elder sister Durga through a field of kash flowers as a smoke-spewing train chugs across the frame.
That image remains frozen to this day in the minds of everybody who genuinely loves cinema, not only in India but also all over the world. For cineastes, that outstanding celluloid composition is Indian cinema.
No wonder the 58th Cannes Film Festival, opening on May 11, will pay a special homage to Satyajit Ray with a 50th anniversary screening of Pather Panchali. The late film maestro's alter ego, Soumitra Chatterjee, who featured in 14 Ray classics, starting with the third film of the trilogy (Apur Sansar, 1959), and Sharmila Tagore, who made her debut in the same film, will be in attendance. At the 1956 Cannes Film Festival, Pather Panchali had won the award for the Best Human Document.
Film lovers in New Delhi, too, were treated last week to a five-film Satyajit Ray retrospective, once again to mark the golden jubilee year of the release of Pather Panchali. Significantly, the trilogy, including Aparajito (The Unvanquished, 1956), was screened in chronological sequence.
In the 50 years that have passed since Ray completed the epochal Pather Panchali, India has changed beyond recognition and so have its moviegoers. Filmmaking techniques have evolved in leaps and bounds, marketing realities have undergone a complete transformation and delivery mechanisms have multiplied and altered. But Ray's exquisitely crafted debut essay remains as fresh and bewitching today as it was when it was first released in August 1955.
No film in the history of Indian cinema has left as indelible a mark on as many people as Pather Panchali. Its naturalistic approach to storytelling inspired several of the next generation of India's filmmakers, notably Shyam Benegal and Adoor Gopalakrishnan. To this day, some filmmakers (for example, the prolific Rituparno Ghosh) admit a debt to Ray's style as a whole, if not necessarily to Pather Panchali in particular.
Pather Panchali yanked Indian cinema away from the cramped, artificial studio space and placed it in the open expanse of a real village. It rewrote the grammar of filmmaking. Gone was the dependence on stilted dialogues and high-pitched, melodramatic acting that had hitherto formed the backbone of Indian film narratives.
Inspired by Italian neo-realism (Ray was particularly fond of Vittorio de Sica's Bicycle Thieves), Ray pared down the storyline to its bare essentials and let the setting and the situations evoke the necessary emotions. Pather Panchali remains a landmark in the way it uses purely cinematic language to narrate a well-loved literary tale.
Interestingly, author Bibhutibhushan Banerjee had nearly 50 published works to his credit by the end of his life, but Pather Panchali remained his best-known and most popular creation. Ray, too, directed over 25 more films, most of them classics in their own right, but his first film is still regarded as his most astounding achievement.
Ray, of course, evolved with every film he made. Especially interesting was the range of moods he achieved in the three films of the trilogy, each set of atmospherics reflecting the evolution of Apu as a character from childhood to the moment when, at the end of Apur Sansar, he is reunited with his small, forsaken son.
In Pather Panchali, Ray worked wonders with both time and space in particular. Even as he captured different times of the day with skilled visual strokes – dawn, noon, dusk, evening and night – he brought alive the physical attributes of the village in which the story was set, turning the experience into an emotionally stirring trek through a real universe marked by deprivation and fortitude, despair and hope, grief and joy.
The great Japanese filmmaker Akira Kurosawa famously said of Pather Panchali: "I can never forget the excitement in my mind after seeing it. I have had several more opportunities to see the film since then and each time I feel more overwhelmed. It is the kind of cinema that flows with the serenity and nobility of a big river."
Kurosawa's utterance had come two decades after Pather Panchali was made. Now, five decades on, the excitement, like a big river, keeps flowing on.