PUNJAB

HARYANA

JAMMU & KASHMIR

HIMACHAL

REGIONAL BRIEFS

NATION

OPINIONS

MAILBAG

BUSINESS

SPORTS

WORLD
Wednesday, May 4, 2005, Chandigarh, India
Updated at 3:00 am (IST)

NDA to review boycott today
Speaker writes to Vajpayee
New Delhi, May 3
The NDA's resolve to continue with the boycott of the two Houses of Parliament appears to be weakening amid growing differences within the alliance on the issue and a fresh appeal from Lok Sabha Speaker to its chairman and former Prime Minister A.B. Vajpayee to reconsider the decision.


In video: Somnath urges NDA to end boycott. (28k, 56k)



TDP reluctant to continue boycott


Editorial: End the boycott


CAST YOUR VOTE
Do you approve of the amendments introduced in the Finance Bill 2005?


FORUM

EDUCATION

JOBS & CAREERS

HEALTH & FITNESS

SCIENCE & TECHNOLOGY

SPORTS

SOCIETY

TRIBUNE CLASSIFIEDS

BRIDES WANTED

GROOMS WANTED

OTHERS

HOW TO PLACE ADVTS
In Health & Fitness Tribune today
Speakerís ultimatum to Jaya Prada
New Delhi, May 3
Lok Sabha Speaker Somnath Chatterjee has issued an ultimatum to seven Lok Sabha Members, including cine actress turned politician Jaya Prada to submit their assets and liabilities declaration by May 16.
Punjab VAT sops of Rs 350 cr
Chandigarh, May 3
While the Punjab Council of Ministers today further diluted the provisions relating to value added tax, it also announced concessions worth Rs 350 crore for farmers, traders, manufacturers, exporters and customers by removing certain items from the tax slabs of 12.5 and 4 per cent to zero per cent.
1971 war hero J.S. Aurora dead
New Delhi, May 3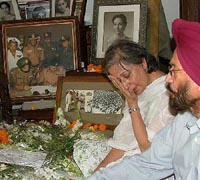 Lt-Gen Jagjit Singh Aurora, who led the Indian forces to victory over Pakistan in the war for liberation of Bangladesh in 1971, died here this morning at a private hospital.


In video (28k, 56k)



Obituary: Modesty in victory

Anita Kalra, daughter of Lt-Gen J.S. Aurora, mourns the death of her father at Friends Colony in Delhi on Tuesday. ó Tribune photo by Rajeev Tyagi

Govt jobs only after dowry details: SC
New Delhi, May 3
With a view to curbing the menace of dowry, the Supreme Court has asked the Centre and states to consider making it a rule for every employee to furnish information at the time of his recruitment whether he had taken dowry, if he was married when applying for the job.
In Jobs & Careers today
QUOTE OF THE DAY
If India and Pakistan can live in peace, we can benefit from each other's growth, markets, and talent.
ó Shaukat Aziz


THE TRIBUNE MAGAZINES
On Sundays

On Saturdays

Punjab SLP against HC order in a week
New Delhi, May 3
Stung by the order of the Rajasthan High Court for handing over of the control of three headworks of the Bhakra-Nangal project by Punjab to the BBMB, the state government today swung into action to challenge the matter in the Supreme Court with its Advocate-General having consultation with various legal experts here.



Rajasthan to file caveat in SC


Punjab page: Punjab may also challenge Rajasthanís claim on waters


Editorial: In hot waters


They get returns every weekend
Diversification from crops to marriage palaces
Paragpur (Jalandhar), May 3
The governmentís proposal of setting up a Rs 100 crore Agri-Diversification, Infrastructure, Research and Development Fund besides encouraging contract farming notwithstanding, a section of the farmers in Punjab has written success stories by innovative diversification plans.
No tax on savings cash withdrawals
May 3, 2005

Advani to lead BJP in poll: Vajpayee
May 2, 2005

Nepal lifts emergency
May 1, 2005

India, Japan to usher in new Asian era
April 30, 2005
NDA leaders meet Kalam, seek Laluís ouster
April 29, 2005
Military aid in doldrums as Nepal arrests Deuba
April 28, 2005
21 states agree on uniform VAT rates
April 27, 2005
Laloo charge-sheeted
April 26, 2005
Manmohan calls for restructuring of UN
April 25, 2005
Military aid for Nepal
April 24, 2005