CAREERCATURE
by Sandeep Joshi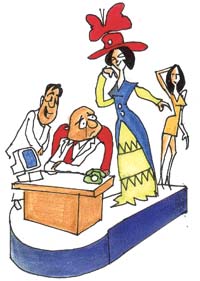 Sir, Friday dressing in our office is getting a bit too crazy.
Miles to go
For those keen on taking the road less travelled, the BRO is a gateway to challenging work opportunities, writes K.L. Noatay
FOR the youth who have an interest in working outdoors and a passion for adventure, the Border Roads Organisation shows the way to interesting options.

Event buzz
CII summit on HR management
Eminent corporate leaders and practising HR managers from the industry will present strategies to unlock the human potential to the fullest at CII's 5th Human Resource Management Summit at New Delhi, starting on May 6. The Gallup Organisation will be the knowledge partner for the summit, according to a Press release.


Career Hotline
Policing prospects