Rampage
The recent Lakme India Fashion Week once again put the spotlight on models. Modelling is now a serious career option and not justapart-time occupation, writes Usha Albuquerque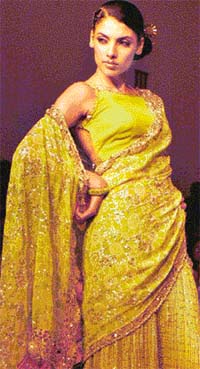 Mention the names of Yana Gupta, Katrina Kaif, Lara Dutta or Upen Patel and any event becomes a sellout. The popularity ratings achieved by some models can equal the following of a movie star.
Until a few years ago, modelling was considered a part-time occupation, or a possible preparatory route for budding filmstars. But in the last decade, modelling has ensured such instant celebrity status to all those that walk the ramp, that many young aspirants see it as a serious career option. Moreover, as men's fashions have also become big business, this career that was once open only to women, holds promise for men too.
Picture perfect
There are three main areas of work for a model. They are — modelling for still pictures, modelling for videos and films, and ramp modelling for events or shows. Some easily handle all three, while others specialise in one or two areas. Modelling for still photographs is the most traditional of jobs required of a model. Still photography shoots take place either in studios, under controlled, often strong, lights, or on location, indoor or outdoor. Modelling for video or films often includes some acting or dancing and is mostly conducted on location. With the vast expansion in regional language advertising, there is also great scope for models who identify with regional cultures and ethos.
Catwalk clues
Ramp or catwalk modelling requires models to display the garments they wear under live conditions. This can be at an exhibition or fashion show, or at a showroom or point of purchase. Catwalk models are required to be tall, slim and striking, and with a natural sense of balance and timing. Ramp models also have to display great equanimity and level-headedness, slipping in and out of garments with astonishing speed, stepping out with poise and confidence from the confusion of the backstage.
Fashioning a career
Advertising and sales promotion provide the major jobs for a model, where they are needed to endorse and publicise a product or service. This could be in the form of a single advertisement or an entire promotional campaign for a brand being advertised. Top models often sign up with a manufacturing company or its advertising agency, and undertake to remain with the product for the run of the campaign.
Fashion is the other large and growing area where modelling of garments and accessories is called for.
Making of a model
The first step for making an entry into the world of modelling is the preparation of a portfolio. This consists of a series of photographs taken by a professional photographer which show the candidate's physical qualities of good looks, and requisite height and build measurements. A good portfolio can cost anything from Rs 5,000-12,000, but is an essential investment as its quality can make or break a career.
A portfolio can then be shown to an advertising agency, a model co-ordinating agency, or a fashion designer. Many models have also started their careers by trying their luck at the many beauty contests and pageants that are held from time to time.
While there are no set standards in this area, and no special qualifications, a major asset for both men and women is to be young and good looking. Models are expected to be of a minimum height of 5' 7", male models should ideally be around 6', have perfect hair, skin and teeth, be well groomed and poised, and possess some knowledge of acting and dance, camera and stage presence and great self-confidence. Over the last few years, some ex-models and choreographers have established schools for training models, but most still learn on the job. Catwalk training and choreography is normally handled by agencies or fashion co-ordinators who arrange the fashion shows. There is also no age criteria, except that models need to be young and ready to start between the ages of 16-18.
With the advent of several beauty pageants, and preliminary rounds held at smaller towns across the country, it has been possible for young aspirants from the non-metros to make a bid for the bright lights.
Grind behind glitz
Modelling entails much more hard work than the glamorous gloss given to it by the media attention models receive.
Models may be required to be up at dawn and often work till midnight on a shoot or ramp practice. During this time they must always appear fresh, bright and well-groomed, no matter how uncomfortable, or bored they might be.
Money matters
Models are assessed in grades according to their experience and range of work. The starting grade is "C', then "B" while senior top-of-the-line models are of 'A' category. Fees are also paid according to grades and could range from Rs 15,000 - 50,000 per photograph, and Rs 10,000 - Rs 25,000 per ramp show. Of course, there are some models who have reached such commanding heights that they can virtually name their own price.
While modelling is a big-time glamorous, and extremely rewarding profession, it is a short-lived one for most models in India. A second line of interest or source of income is therefore advisable for all aspirants to this field. . After a successful modelling career, many models open their own schools of modelling, or set up model co-ordinating agencies, act as highly visible marketing agents for a range of high-fashion products, or even join films or television as actors/ actresses or anchors.
So, if the glamourous life of style, lights and action appeals to you, and you have been winning prizes at your school/college beauty pageants, then go ahead and sign up for the next show. Who knows, you may be the next Lara Dutta or Upen Patel?
The writer is a noted career expert