M A I N N E W S
NDA to review boycott today
Speaker writes to Vajpayee
Tribune News Service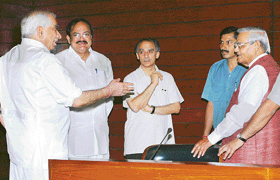 Former Prime Minister Atal Bihari Vajpayee with BJP leaders Jaswant Singh, Venkaiah Naidu and Arun Shourie before the start of the NDA meeting at Parliament House Annexe in New Delhi on Tuesday. — PTI photo

New Delhi, May 3
The NDA's resolve to continue with the boycott of the two Houses of Parliament appears to be weakening amid growing differences within the alliance on the issue and a fresh appeal from Lok Sabha Speaker to its chairman and former Prime Minister Atal Bihari Vajpayee to reconsider the decision.
Top leaders of the opposition alliance today decided to meet again tomorrow to review their current strategy in both Houses. After participating in the discussions on the Finance Bill in the Lok Sabha yesterday, a meeting of the NDA Parliamentary Party this morning, chaired by Mr Vajpayee, had decided to continue with its protest in both Houses till the time the "Opposition is allowed to raise its voice on issues like corruption".
With the TDP, which extends outside support to the NDA, showing reluctance in joining the protest on the ground that it wanted to raise several issues pertaining to Andhra Pradesh, the NDA top brass swung into action and "convinced" it to support the move, alliance sources pointed out.
However, as the day proceeded, the TDP apparently hinted that it may not be able to support the boycott beyond a couple of more days, which was indicated by the absence of party leader Yerran Naidu from NDA meetings since last evening.
JD (U) member Prabhunath Singh also told TV channels that NDA should reconsider its stand, which senior party leader Sharad Yadav termed as a "personal view".
A fresh appeal from Speaker Somnath Chatterjee to Mr Vajpayee to reconsider the boycott with an assurance that "permissible issues" would be allowed to be raised prompted the coordination committee meeting, held in the evening under Opposition Leader L K Advani, to defer a final decision till tomorrow.
Sources said while the BJP leaders want the boycott to continue, there is a growing section within the alliance partners who want to end the impasse.
The NDA leaders met again in the evening to take stock of the latest situation and held the view that they would not return to the House till there was a ''positive indication'' from the government.
The NDA MPs will meet again tomorrow to decide if they want to continue the boycott.
The Speaker's letter was not considered at the meeting because it was received only after the meeting was over, NDA sources said.