M A I N N E W S
They get returns every weekend
Diversification from crops to marriage palaces
Prabhjot Singh
Tribune News Service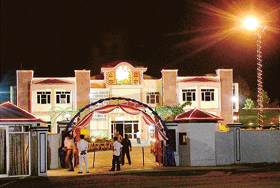 A farmhouse-turned marriage palace near Hoshiarpur which was illuminated for a function on Saturday night.
— Tribune photo by Karam Singh

Paragpur (Jalandhar), May 3
The government's proposal of setting up a Rs 100 crore Agri-Diversification, Infrastructure, Research and Development Fund (ADIRF) besides encouraging contract farming notwithstanding, a section of the farmers in Punjab has written success stories by innovative diversification plans.
Instead of opting for the much-publicised agri-diversification schemes of cultivating cash crops like sunflower, hyola and flowers, they have diversified into the marriage and recreation business with tremendous success.
Farmhouses-turned marriage palaces now not only stand out but also outnumber sunflower or hyola farms in rural Punjab. A small town like Ajnala has a couple of marriage palaces. In the last Assembly byelection, two of these marriage palaces were used as camp offices by the Congress and Shiromani Akali Dal candidates.
Making a humble beginning in the mid-90s with bamboo-tarpaulin structures on a part of their farmlands adjoining bigger towns, hundreds of farmers now own airconditioned multiple-use marriage palaces-cum-tourist resorts all over the state. Now they are attractive structures with marble flooring and air-conditioned banquet halls with all modern facilities.
Each such resort now supports 50 to 100 families directly and a few hundred families indirectly.
Although no single government agency maintains a count of such farmhouses converted into marriage palaces and tourist resorts, their number is estimated to be around 2,000 with 100-odd multipurpose complexes being added every year.
In Jalandhar, for example, four complexes are nearing completion. The initial investment, besides the cost of the available land, is between Rs 50 lakh and a few crores of rupees for which loans from financial institutions are readily available.
Their size varies from less than 1 acre to 20 acres. Each farmhouses has, besides lush green lawns, one or more banquet halls, ultramodern kitchens and parking areas. Some owners have added water features and even swimming pools besides other attractions for young guests.
The more enterprising among the farmers are now converting their weekend money-spinning ventures into seven-day-a-week commercially viable joints by adding club houses, restaurants, bars and fast food counters to what they still prudently call "farms".
Lured by the success of these resorts, many hoteliers, business houses, politicians and bureaucrats have invested in this new flourishing sector.
True to the adage that for making a commercial venture a money spinner, keep the government out, they have gone into the business in a gradual but firm way to create their own space.
But now government agencies have devised ways and means to ask for their share from these ventures. "Within municipal limits, each marriage palace or tourist resort is now required to pay an annual parking fee of Rs 1 lakh. Besides, we have to pay a licence fee of Rs 4,500 per annum," says Mr Amarjit Singh, president, Ludhiana Marriage Palaces Welfare Association.
"We have to pay this annual parking fee even if we have our own arrangements for the parking of vehicles of our guests. Now the Punjab Government has raised the licence fee from Rs 20,000 to Rs 30,000 per annum for allowing us to serve liquor at our complexes. This fee is in addition to the Rs 1,000 transit fee paid per day by each family holding its function on our premises," adds Mr Amarjit Singh.
He says the owners of such farmhouses, resorts and marriage palaces all over the state may come together to form a state-level association as the government, instead of being a diversification facilitator, has been looking for ways and means to impose new taxes on the sector.