PUNJAB

HARYANA

JAMMU & KASHMIR

HIMACHAL

REGIONAL BRIEFS

NATION

OPINIONS

MAILBAG

BUSINESS

SPORTS

WORLD
Saturday, May 7, 2005, Chandigarh, India
Updated at 3:00 am (IST)

Picks holes in sale of Centaur Hotels
New Delhi, May 6
A day after former Disinvestment Minister Arun Shourie dared the government to hold an open inquiry into the sale of two Centaur hotels sale, the Comptroller and Auditor General today presented its report which could snowball into another major controversy for the previous NDA government.

Says funds diverted for 'India Shining'
New Delhi, May 6
The Vajpayee government today came under critical focus as the Comptroller and Auditor General held the NDA administration guilty of diverting funds and incurring unauthorised expenditure of Rs 63.23 crore for the "India Shining" media campaign.
CAST YOUR VOTE
Is the government to blame for delaying releasing the Nanavati Commission report on 1984 anti-Sikh riots?



FORUM

EDUCATION

JOBS & CAREERS

HEALTH & FITNESS

SCIENCE & TECHNOLOGY

SPORTS

SOCIETY

TRIBUNE CLASSIFIEDS

BRIDES WANTED

GROOMS WANTED

OTHERS

HOW TO PLACE ADVTS

Nation page: NDA delayed demining equipment purchase: CAG
London, May 6
Braving public anger over the Iraq war, Prime Minister Tony Blair today won a historic third term in power for his Labour Party but with a drastically reduced majority that could force him to step aside even before his term expired.

Britain's Prime Minister Tony Blair and his wife Cherie arrive back at 10 Downing Street in London on Friday. — Reuters photo
In video (28k, 56k)
| | |
| --- | --- |
| | |
| | HARYANA: Education Dept to regain control of primary schools |
| | HIMACHAL: Parbati II: undo damage, HP asks NHPC |
| | |
| | |
| | CHANDIGARH: KFC, Gulati emporium issued demolition notices |
| | LUDHIANA: SPO nabbed in rape case |
| | OPINIONS: Victory without sheen |
| | BUSINESS: SEBI to probe bank stock rigging |
| | |
| | |
| | |
In Sports Tribune today
QUOTE OF THE DAY
Mr Blair, all the people you have killed and all the loss of life have come back to haunt you and the best thing that the Labour Party can do is sack you...
— George Galloway, British MP


THE TRIBUNE MAGAZINES
On Sundays

On Saturdays

Opposition says PM's remarks insulting
New Delhi May 6
The political war between the NDA and the UPA appears to turning uglier every passing day as the Opposition alliance today charged Prime Minister Manmohan Singh with "insulting" it and ridiculed him of having no "control" either over the party or the government.

In video (28k, 56k)



LS adjourned twice
Nation page:


Third front likely to figure in TDP Congress


Table Phukan report or I'll move court: George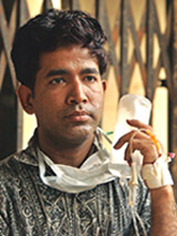 A man suffering from bacterial meningitis walks outside his ward in a hospital in New Delhi on Friday. A strain of bacterial meningitis has killed over 10 persons in the Capital and possibly affected over 50 persons. — Reuters


In video (28k, 56k)
SC quashes probe against ex-DGP Rathore
New Delhi, May 6
In a major relief to former Haryana Director-General of Police S.P.S. Rathore in a case of alleged harassment of the brother of Panchkula-based girl Ruchika Gehrotra, who had committed suicide in 1993 after levelling the charges of "molestation" against the police officer, the Supreme Court today quashed the judicial inquiry against him ordered by the Punjab and Haryana High Court.
Ban on Muslim body extended
New Delhi, May 6
The government has extended by another two years the ban on fundamentalist organisation 'Deendar Anjuman' for allegedly indulging in anti-national activities.
UN bans Lashkar
New Delhi, May 6
Terrorist outfit Lashkar-e-Toiba responsible for whipping up violence in Jammu and Kashmir, has been banned by the United Nations for its linkages with the Al-Qaida.


Hooda orders inquiries into Chautala 'irregularities'
Chandigarh, May 6
Contrary to his public posture of being soft on the INLD chief, Mr Om Prakash Chautala, the Haryana Chief Minister, Mr Bhupinder Singh Hooda, has quietly ordered inquiries into a number of cases in which, prima facie, several irregularities were committed by the previous regime.

PM puts Opposition on the mat
May 6, 2005

George cleared VIP planes for Justice Phukan, says Pranab
May 5, 2005

NDA to review boycott today
May 4, 2005
No tax on savings cash withdrawals
May 3, 2005
Advani to lead BJP in poll: Vajpayee
May 2, 2005
Nepal lifts emergency
May 1, 2005
India, Japan to usher in new Asian era
April 30, 2005
NDA leaders meet Kalam, seek Lalu's ouster
April 29, 2005
Military aid in doldrums as Nepal arrests Deuba
April 28, 2005
21 states agree on uniform VAT rates
April 27, 2005
Laloo charge-sheeted
April 26, 2005
Manmohan calls for restructuring of UN
April 25, 2005