LOAN rangers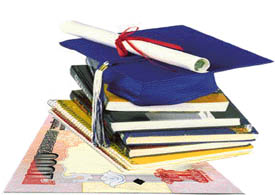 With both private and public sector banks extending attractive loan schemes to students, education at home and abroad has been made financially more manageable and easier. Banks, however, prefer giving loans to students opting for professional courses rather than those taking up liberal arts and sciences, reports Ramesh Ramachandran
IT was 1957 and O.N. Tickoo secretly nursed a dream of studying at Oxford. Tickoo, whose father worked as a state government employee, was always putting money together for the wedding of his three daughters.

'Wish there were 60 days in a month'
Gitanjali Sharma chats up Karishma Randeva, the dusky lissome beauty from Panchkula, who has found her space on the small screen
SHE featured three years ago in these columns when the movie Ants, in which she played the female lead, fetched the Best Producer and Best Foreign Film awards at the Yellowstone Film Festival in the US.
Light up your hair
NO snips, no cuts, just styling... by singeing. And that too by using the humble, everyday gas lighter... well, that's way the hair falls for an Ahmedabad-based barber.