Stamped Impressions
A peopleís leader
Reeta Sharma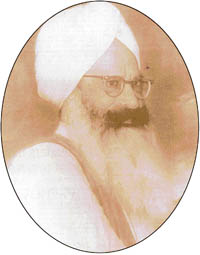 IN todayís world, when it is hard to find citizen-friendly administrators, it was heart-warming to hear P C Hota, a former union secretary and Chairman of the Administrative Reforms Commission, sketch the character of the late Partap Singh Kairon, a former Chief Minister of Punjab, at CRRID, Chandigarh.
Kairon had acquired a Masterís degree in political science from the University of Michigan in the US. After that he spent the next 10 years in the US, working in a farm for 12 to 14 hours a day.
On his return, he became part of the freedom movement in India. Kairon began his political journey by joining the Congress in 1929, underwent five-year jail term in 1932 and got elected to the Punjab Legislative Assembly in 1936 and then again in 1946. He eventually became Chief Minister in 1956.
Although Hota never worked with Kairon, yet he was immensely impressed by this politician, and his work on Kaironís life shows it.
Some interesting observations and instances collected by Hota will give you a peep into Kaironís personality. For instance, when Kairon became Chief Minister, a childhood friend of his sent him a letter expressing his excitement over Kaironís elevation. At this, Kairon send a flag car for his farmer friend and asked him to be his guest. His friend was totally bowled over, when he saw Chandigarh from the ninth floor of the secretariat. He remarked, "What a view"? Kairon was quick to tell him, "In Punjab, there is view and view and view right from under secretary onwards."
On prohibition, Kairon said, "It is the fetish of fools." He himself was a teetotaller. He also firmly dealt with the bureaucracy of Punjab.
He was a man of strong likes and dislikes, which eventually led to his downfall. However, the concrete steps that he took for Punjab display his vision.
Kairon was the first Chief Minister who got a law passed for consolidation of holdings. It helped farmers not only in improving their produce but also brought them relief from confrontations with each other. Similarly, the idea of having tube wells was also initiated by Kairon. He set targets for the tube wells to be dug in the undivided Punjab, which helped farmers to overcome irrigation problems. The setting up of modern poultry farms and orchards was also his idea.
It was Kairon who established Punjab Agricultural University at Ludhiana with a campus at Hisar and he also set up Kurukshetra University. The PGI, Punjab Engin eering College and Home Science College at Chandigarh are also his gift to the people of the region. The Punjab Public School at Nabha and Sainik Schools at Kapurthala and Kunjpura are also there due to him.
Quite clearly, Kairon was a radical and a man driven by the passion. He will go down in the history as the only Chief Minister in the country who abolished all religious holidays. He also introduced summer working hours from 7 am to 1.30 pm. He was the first Chief Minister in the country to have introduced Saturday as a weekend holiday along with Sunday.
There are many other firsts to Kaironís name. He decided to have village link roads; the first-ever working womenís hostel in Punjab was built by him. Impressed by the influence of progress in the US, Kairon wanted to replicate that trend in Punjab. Hota said that the entire credit for "modern Punjab" should go to Kairon.
Besides Hotaís information on Kairon, there are several other important aspects of his life, which I would like to share with you. For instance, he built the first girlsí high school with a hostel in his native village Kairon in Amritsar district. He was also the driving force behind the Bhakra Dam Multi-purpose Project and also a chain of industrial training institutes in Punjab.
In course of time, however, things changed when Kaironís sons and wife were found guilty on charges of corruption. In June 1964, following a judicial pronouncement, Kairon resigned on moral grounds.
He did not live with his sons, instead stayed in MLA hostel with his meagre belongings. He was assassinated on February 6, 1965.