Food Talk
Stuffed bonanza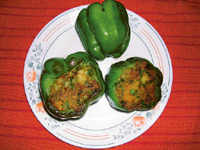 Be it as a garnish, salad or a cooked vegetable, capsicum is a vegetarian's favourite, writes Pushpesh Pant
Who would have thought that the good-old Simla Mirch should actually be called Amrican Mirchi? It was Christopher Columbus who discovered the luscious relative of aubergines and tomatoes in the new world and introduced it to Europe.
The Portuguese brought it to the Indian coast and from there it was a comparatively short journey to the Himalayan heights. The juicy, not at all pungent, chilly is available round the year but some years ago it was a seasonal delight and a favourite of the vegetarians-something that provided refreshing variety. Even the naturally carnivorous Awadhi bawarchi are fond of the Alu Simla Mirch. The Gujarati cooks make a mean sambariya with it and we can't forget the 'out of this world' taste of the sagiya mirch (that is what they call Simla mirch in Uttaranchal) cooked with torai (ridged gourd) and muli by Gopal Dutt in his dhaba in Bageshwar more than quarter century ago.
The crunch it imparts to salads is beyond compare and cut in diamonds or thin strips it is a most useful garnish. One of its greatest virtues is that it hardly requires any cooking time. If unexpected guests turn up, you can rustle a delicious capsicum, tomato, onion 'quick fix' that is a fest for the eyes as well. If you are not very fond of the fat, you can avoid the fried stuff and enjoy the fun-filled capsicum grilled, baked, micro waved or stuffed after searing them over open flame.
The word capsicum literally means boxlike and that is really very apt. The hollow inside the chilly can store a lot of mouth-watering temptations and it is the recipes with stuffing that are most popular. Bharwan mirchi is usually made with keema in Hyderabad and spicy potato mash elsewhere.
If a richer dish is desired than paneer or khoya matar enriched with dried fruits and nuts topped with grated processed cheese baked to a golden glaze can be tried. A subtler filling is made with finely chopped sautéed mushrooms, pine nuts, small florets of broccoli, bamboo shoots and dices of red and yellow bell peppers.
The luster of green Simla mirch has somewhat faded since the advent of more attractive sweet peppers — red and yellow, not to forget the even more exotic black varieties. These are undeniable sweeter but far more expensive. An overdue revival is at last underway triggered by the spread of the good word that it is a health ingredient. High in water content, Vitamin C and low in calories- a mere 60 per 100 gm.