Heroic Heroines
Women of the Hindi cinema have excelled in defiant roles, says M.L. Dhawan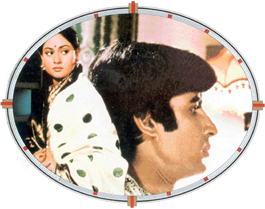 Jaya Bhaduri in Abhimaan

It is only now that leading women in the Hindi film world have started commanding an equal price with the male leads and also a super star status that travelled from Madhuri Dixit to Aishwarya Rai. This in spite of the fact that the films have always had some great women stars ever since they started appearing on the silver screen. Among them were Devika Rani, Nargis, Meena Kumari, Smita Patil, Shabana Azmi and many others. There were times of course when male leads would see that their feminine co-stars got less footage than them and less meaty roles lest they turned scene stealers.
Nevertheless some of the most memorable films have been those that were women-centric. Interestingly, films in which heroines confronted gender biases not only provided catharsis but were also in a way shaping the changing attitudes of women in society. Cinema has played its role in re-imaging women as opposed to the prevalent stereotypes. Whenever films about strong women are discussed, V. Shantaram's Duniya Na Mane tops the list. In the film Nirmala — an orphan girl is given in marriage to an old rich widower. In her home, even her grown-up young son casts a roving eye on his young stepmother. She revolts and refuses to consummate the union with her husband. Shanta Apte played perfect Nirmala as she was quite a firebrand in her real life too. For all the glamour Nargis brought to Hindi cinema and more so in the films made under the RK banner, her portrayal as Radha in Mehboob Khan's Mother India straddling the barren fields weighed down by the plough, is one of the enduring images of women in Hindi cinema.
Meena Kumari's personal life remained a shambles she projected her tribulations and agony through her roles so realistically that her reel performances appeared to be a chunk from her real life. Of all the characters she played on the screen, she identified most with one she portrayed in Sahib Bibi Aur Ghulam. She used to say that she was the Chhoti Bahu incarnate in real life. However, this role had seeds of revolt in it for she challenges a feudal system in which the women have just to busy themselves with making and re-making jewels. She claims the attention she deserves from her husband even if the end is tragic.
Madhubala's of the classic good looks still enjoys the sex-symbol status in the country that is the lot of Marilyn Monroe in the world. Madhubala's coquettish come-hither looks, her lop-sided smile, the sensuality she imparted in the tantalising number Aaiye meherban baithiye jan-e-jaan (Howraha Bridge) epitomised magic and joie de vivre. Yet the most enduring image of Madhubala is when she dared to challenge the might of the Mughal empire/monarchy while singing pyar kiya to darna kya in Mughal-e-Aazam.
In Asit Sen's Khamoshi, Waheeda Rehman as Radha, a nurse in a mental hospital, epitomised the indomitable resilience of an Indian woman. In Guide, she was at her expressive best when Rosie, standing in a cave, cries out Marco-main jeena chahati hoon. She thus voices the anguish of women who suppress their talent and languish in bad marriage. In Hrishikesh Mukerjee's Abhimaan, Jaya Bhaduri displayed depth and poignancy portraying the travails and turmoils of a wife, Uma, in whose married life cracks develop as her jealous, but less talented, husband starts feeling threatened by the success of his own wife. These films questioned the suppression of a woman's creativity in marriage.
In Arth and Masoom, Shabana Azmi mirrored the despair and despondency of a wife while accusing her husband of infidelity. Mirch Masala had Sonabai (Smita Patil) slapping an official of the Raj who feels he can have the village woman he so desires. To protect her honour, she takes refuge in a spice factory run by women. With their grit and with no more than piles of chillies for weapons, women hold back the tide of masculine oppression. And the women of the village stage a protest in her favour with the Sarpanch's wife defying her husband and the feudal authority that he represents.
In Shekhar Kapoor's Bandit Queen, Seema Biswas brought an animal-like quality to her portrayal that was a take off on the life of dacoit Phoolan Devi. In Raj Kumar Santoshi's Damini _ Meenakashi Sheshadhari witnessed her brother-in-law and his friends rape a maidservant while the entire family conspires to hush up the matter, the docile daughter-in-law, Damini rebels against the family and its respectability code, celebrating the triumph of courage of an ordinary woman who can not bear injustice towards another woman.
The look in the eyes of Kalyani (Nutan) in Bandini as she poisons the nagging wife of her lover made the role a cinematic landmark. In Gulzar's Aandhi, Suchitra Sen as Aarti gave a powerful performance of a jilted wife fulfilling her political ambition and negotiating for the space in relationship. In Lajja, Madhuri Dixit, Mahima Choudhary, Manisha Koirala and Rekha explode with rage deriding dowry, domestic violence, sexual exploitation, and manipulation by men.
These and other powerful roles in cinema in which women showed the dare to go against the tide are odes to womanhood and in a way mirror the change that has surely and steadily come in the society.