Abrupt fadeouts
A documentary by a Hong Kong-based Indian filmmaker delves into the plight of one-hit wonders, writes Saibal Chatterjee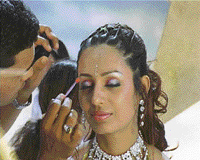 A scene from Sunset Bollywood

Call it an accidental documentary if you will, but the inspiration for Hong Kong-based Indian filmmaker Komal Tolani's directorial debut, Sunset Bollywood, did come to her in a flash. It was indeed as abrupt as the sharp downturn in the careers of the three ill-fated Hindi movie stars whose minds the 54-minute film seeks to probe.
But the roots of the film lie in Tolani's near-dormant personal memories of a piece of early 1990s Bollywood. A Mahesh Bhatt-directed musical love story of that era, Aashiqui, gave Mumbai cinema one of its unlikeliest stars, the unconventional looking, guitar-strumming lover boy Rahul Roy. Tolani, then a starry-eyed teenager, fell head over heels for him.
When Rahul Roy visited Hong Kong on a promotional tour of the film, he was, the filmmaker recalls, "mobbed everywhere he went… or rather, everywhere he tried to go."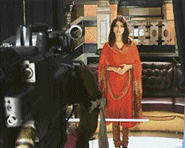 Bhagyashree is a one-film wonder

Tolani was obviously among "those crazed fans". But as with most "teenage crushes" her fixation for Rahul Roy petered out as quickly as his stardom.
It was many years later, while surfing channels in Mumbai in the wee hours of the morning, that Tolani encountered Rahul Roy again – in a television rerun of Aashiqui. It set her thinking. It dawned on her that the actor she adored as a girl growing up in Hong Kong had done little of note post-Aashiqui. She couldn't help wondering what had happened to him. "I started thinking of other such one-hit wonders," Tolani recalls. "Of course, there are hundreds of them. Yet, nowhere in India will you find a "where are they now?" show on television.
Thus was born Sunset Bollywood, a film that seeks to understand what happens to aspiring movie stars who blaze across the Bollywood firmament with a runaway debut hit only to experience darkness at high noon thereafter. The focus of the documentary is on three actors who made impressive screen debuts but failed to hold on to stardom – Rahul Roy, Bhagyashree and Kumar Gaurav.
"I wanted to make a documentary that didn't just look at the rise and fall of stars in India but rather understand and explore how such an experience affects the person underneath," explains Tolani, a Drama, Film and TV graduate from Bristol University.
Currently an associate producer with a Hong Kong production company, Tolani produced and co-hosted an entertainment radio programme for BBC, besides working on various documentaries for CBS, National Geographic and Discovery Channel. She spent a good part of 2003 in Mumbai, working on several Indian film projects.
"I wanted to convey the true reasons why people fade out of the limelight. These actors are usually dismissed as one-hit wonders, but often, as my documentary reveals, there are other reasons why actors/actresses bow out of the industry early," says Tolani about the rationale behind Sunset Bollywood.
The documentary also emphasises one significant aspect of the careers of actors like Rahul Roy and Bhagyashree – stardom may have turned its back on them but they still nurture hopes of a glorious comeback in the face of much scepticism from the rest of the industry. Stardom, Tolani says, is like an addiction. It has a narcotic pull that never dies.
Says Tolani: "It wasn't too difficult to get the actors to talk candidly about their careers. I explained to them I wanted their hindsight on fame and their careers and they openly talked to me." Tolani had initially wanted four people in the documentary, but one actress was not willing to be interviewed on camera. "To protect her privacy, I will not name her," she adds.
"The Bollywood machine," says the filmmaker, "is a conveyor belt churning out hits and misses, heroes and zeroes. Those who lose their appeal are quickly replaced… there's no time for nostalgia in a world obsessed with tomorrow's superstars… Spare a thought then for all the gods and goddesses left on the shelf…"
Apart from the actors on whom Sunset Bollywood focuses, Tolani interviewed a wide cross-section of people with a view – Mahesh Bhatt, who gave Rahul Roy his big break in Aashiqui, Rahul Rawail, who directed most of Kumar Gaurav's debut film Love Story, character actor Alok Nath, who played the role of Bhagyashree's father in Maine Pyar Kiya, and Shobhaa De, columnist and former editor of Stardust, among several others.
The film, shot in 25 days over a period of six months from November 2003 to March 2004, took a little over a year to wrap up. Completed in January 2005, Sunset Bollywood is among a wide variety of entries at the five-day Indian Film Festival of Los Angeles, which kicked off on April 20.
"The film has not been screened in India yet," reveals Tolani. "I am hoping to show it at more international festivals first." Her stop in Los Angeles coincided with a spate of Indian film screenings in New York, where the Lincoln Center and the Indo-American Arts Council respectively celebrated two diverse facets of cinema from the subcontinent – the films of Amitabh Bachchan and the works of a clutch of Indian celluloid masters. Tolani's unusual effort, a documentary dealing with promising names that sank into oblivion, only completed the multi-tinged mosaic that is Indian cinema.