Television
Big Fight


Big Fight has changed its course and moved to a wider arena, leaving small screenís NDTV with a major editorial loss. Rajdeep Sardesai, its ace reporter, anchor and managing editor has joined hands with CNBCís TV18. When NDTV muscled inon CNBC TV-18 territory with the launch of NDTV Profit early this year, surely this isnít what they would have bargained for. Sardesai takes with him 11 years of experience he got by working in The Times of India, NDTV 24X7 and Big Fight assignments that made him one of the most recognised television faces in India.
According to reports, Sardesai wanted to launch a "journalist-driven" channel with emphasis on good journalism and better stories. Raghav Bahl, promoter of TV18, and Sameer Manchanda, former NDTV CFO, are his new partners in TV18ís general news channel. The new venture will be called Broadcast News.
Estimates say that Sardesai would need about Rs 750 crore to put Broadcast News on air. According to sources Raghav Bhal would pick up 74 per cent stake and Sardesai, Sameer Manchanda and Sagarika Ghose (Sardesaiís wife) would chip in with the rest of the money. Sources say that CNBC may also bail them out with a Rs. 150-crore package to make the project viable.
Barkha Dutt is the new managing editor of NDTV. Sources say that many more big names are likely to join Rajdeep.
Market sources say, he has received a Rs 2 crore package for signing up with CNBC. The new channel is likely to be on air by September.
ó Gaurav Sood
Healthy business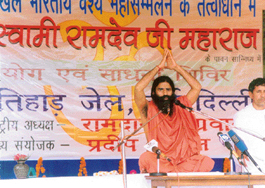 Swami Ramdev is challenging chartbusters across channels

Itís an unlikely channel and heís an unlikely host to challenge the supremacy of the all-pervasive saas-bahu sagas. Yet, Aastha and Swami Ramdev are doing just that.
The Swamiís primetime Yoga-Made-Easy-Through-Pranayam watched by over a million viewers every weekday is now posing a serious threat to soaps and eating into their TRPs with a vengeance.
One of the reasons for his popularity is his promise to cure ailments without a great investment of time. For a number of harried Indians, worried more about their health than about the Virani family, this is just the message they want to hear.
With a fan following that rivals the best shows on the small screen, Swami Ramdev is infusing a new karmic energy in TV viewing. Wonder what Ekta Kapoor will do now ó make Tulsi conduct Yoga classes?
Cashing in on Amanat


It was the role of a domestic servant that started his career in showbiz. Back in 2001, when he accepted the role of ĎNigodaí on Zee TVís Amanat, he was told that he had made a career blunder.
"I had my reservations but I was a struggler and ready to grab anything," confesses Ravi Gosain. A powerful script and his own fine performance ensured that Nigoda became a household name.
And ever since then thereís been no looking back. Heís had starring roles in films like Gulzarís Maachis, Govind Nihilaniís Hazaar Chaurasi Ki Maa, Amol Palekarís Daayra, Kalpana Lajmiís Chingari and Shyam Benegalís forthcoming Netaji The Forgotten Hero.
"Though people still identify me with Nigoda in Amanat, Iíve done a lot of work on TV in serials like Gaatha, Sarhadein, Hukumat and Kartavya. I also got immense popularity with my Punjabi serial Kikraan De Phool," says the star from Ferozepore.
Kulrajís new avatar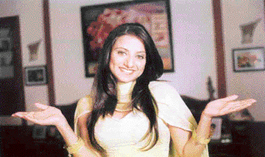 Kulraj Randhawa is all jazzed up

This sure is the season of makeovers. After Jassi itís now the turn of Kareena Kareenaís Kulraj Randhawa to come under the beauticianís gaze.
In the Zee TV serial Kulraj plays a simple kudi from Chandigarh who comes to Mumbai to find a job. Soon enough she has two jobs ó a homely secretary by day and a hip-hop radio jockey in her spare time. She also has a Bihari tyrant for a boss and a makeshift husband. Now things are changing for this simple lass. Itís a complete overhauling of her of personality. From a mangalsutra flashing conventional Indian woman sheís transforming into a jeans-and-tops party hopping lady.
So whom is she trying to impress? Says Kulraj, "Youíve seen Abhishek Bachchan, Brett Lee and Navjot Sidhu on my show. Who knows which other star will come visiting?" Considering that some top Bollywood names are slated to make special appearances in Kareena Kareena, she sure has a reason to jazz up her looks. ó NF