PUNJAB

HARYANA

JAMMU & KASHMIR

HIMACHAL

REGIONAL BRIEFS

NATION

OPINIONS

MAILBAG

BUSINESS

SPORTS

WORLD

Thursday, May 12, 2005, Chandigarh, India
Updated at 3:00 am (IST)

Sonia lambasts BJP for boycott
Defends Manmohan Singh
New Delhi, May 11
Congress president Sonia Gandhi today came out in stout defence of Prime Minister Manmohan Singh even as she lambasted the BJP-led NDA for spreading canards against him in crude and offensive language.
CAST YOUR VOTE
Is it right to resume arms supplies to Nepal?


FORUM

EDUCATION

JOBS & CAREERS

HEALTH & FITNESS

SCIENCE & TECHNOLOGY

SPORTS

SOCIETY

TRIBUNE CLASSIFIEDS

BRIDES WANTED

GROOMS WANTED

OTHERS

HOW TO PLACE ADVTS
President seeks detailed report on EC controversy
New Delhi, May 11
Even as President A.P.J. Abdul Kalam is believed to have sought a detailed report from the Manmohan Singh Government about the controversy surrounding the Election Commission and alluded to the constitutional body doing an excellent job in overseeing the conduct of the gigantic democratic process in the country, Union Railway Minister Lalu Prasad Yadav called on Prime Minister Manmohan Singh and pressed for the resignation of Election Commissioners B.B. Tandon and N. Gopalaswamy.



PIL moved against Chief Election Commissioner


Editorial: Cracking the whip
One killed, 45 hurt in Srinagar blast
Srinagar, May 11
A pedestrian was killed and nearly 45 others were injured, 10 of them seriously, when an IED planted by suspected militants in a car went off in the Jawahar Nagar area here today.
In video (28k, 56k)
Lending a helping hand: a blast victim attends to another injured person at Gogjibagh locality of Srinagar where militants on Wednesday detonated an explosive-laden car killing one and injuring several persons. Tribune photo: Amin War
HIMACHAL: Non-profit making units to be merged


CHANDIGARH:
Controversial DC on way out


LUDHIANA: Meningitis scare in city


OPINIONS: Courtroom swings


BUSINESS: Tax reforms to continue :PC


NATION: Little support to judiciary since Independence: Justice Lahoti


In Amritsar Plus today
QUOTE OF THE DAY
Not even our most bitter critic can accuse our Prime Minister of being arrogant, subjective and or inconsiderate. Yet, this is what the BJP has done.

— Sonia Gandhi

THE TRIBUNE MAGAZINES
On Sundays

On Saturdays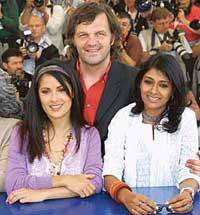 Sarajevo-born director and festival jury president Emir Kusturica (centre) poses with jury members, Mexican actress Salma Hayek (left) and Indian actress Nandita Das, during a photo call on the opening day of the 58th Film Festival in Cannes on Wednesday. — Reuters

Bus to Nankana Sahib soon
Islamabad, May 11
Carrying the peace process forward, India and Pakistan today agreed in principle to run bus services between Amritsar-Lahore and Amritsar-Nankana Sahib, the birthplace of Guru Nanak, but deferred their operationalisation by two months to work out more technical details.


In video (28k, 56k)
Special Story
Army's tactical network goes hi tech
Gag (Jalandhar), May 11
In a bunker beneath the swirling dust and sun-baked plains of Punjab, a group of Army officers in battle fatigues sit before a bank of computers, processing information flowing in on data lines from various formations deployed in the field for operations.
Resort coming up on forest land
Basali (Ropar), May 11
A large luxury resort being developed on ecologically fragile land in the Lower Shivalik Hills near Ropar has come under the scanner of the Punjab Forest Department for alleged violation of the Forest Act.
Haryana to have separate gurdwara body
Draft Bill ready
Chandigarh, May 11
On May 6, in Amritsar, when Haryana Chief Minister Bhupinder Singh Hooda stated that his government was actively considering the demand of Haryana Sikhs for the formation of a separate Haryana gurdwara parbandhak committee, he surprised many.
SC stay on Bhakra, Beas projects
May 11, 2005
EC takes Chhapra to Kalam
May 10, 2005
India not to insist on veto power
May 9, 2005
Two ECs must quit, says Lalu
May 8, 2005
CAG raps NDA govt
May 7, 2005
PM puts Opposition on the mat
May 6, 2005
George cleared VIP planes for Justice Phukan, says Pranab
May 5, 2005
NDA to review boycott today
May 4, 2005
No tax on savings cash withdrawals
May 3, 2005
Advani to lead BJP in poll: Vajpayee
May 2, 2005
Nepal lifts emergency
May 1, 2005