Get gorgeous in glasses
Neha Sharma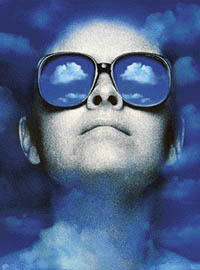 THIS season set the streets ablaze in your flamboyant glasses. Sunglasses do not just to protect your eyes but leave an impression about you.
A new pair of glares can bring out new facets of your personality. If you want others to feel your presence then wear glasses which are not only in vogue but also represent your personal style.
"My sunglasses are an indispensable part of my accessories. And undoubtedly, they make a style statement," says Seema Jain, a boutique owner.
"Just as for my wristwatch even for sunglasses, I never forget to check out the brand. After all, these accessories reflect the status and choice of a person," asserts Sukriti, a B.Com student.
"The round, circular shapes with golden frames are out at least for youngsters," says Sanjay Gupta, manager at an optical centre. New styles keep making their way into the market, but ultimately itís your face cut which decides your sunglasses. He further adds, "An oval face cut is best for any frame, a round face needs a sleek and broader frame to underplay the roundness of the face. Though nowadays, bigger lens in soft shades are popular for almost every face cut."
Put a little thought into your sunglasses and awaken yourself to innovative designs from designersí world. "Some clients only buy branded sunglasses and there are some who swear by designer glasses," says Ravinder from Bon Ton Optical Centre.
Glasses become an object of desire for those who believe in keeping pace with every changing fashion. If you have a whopping bank account and are a true fashion freak then your glasses must match your wardrobe.
I used to wear lens for my eyesight but now Preityís stylish glasses in Kal Ho Na Ho suit me," says Gulnar, a B.Sc. student.
Hey, you can also look for sunglasses to reflect not just your style but also your attitude. Itís an era where looking attractive is more important than just looking beautiful.
Now you have a wide range of sunglasses that make you crave for more. "For this summer I am already saving my pocket money to buy a new pair of sunglasses for myself," says 19-year-old Malini.
For a sultry and exotic look, you should use soft shades and frameless glasses. "I wear brownish black glasses with frames which compliment my complexion and suit my oval face," says Sushma, a housewife.
The latest sunglasses come from the stables of Versace, Roberto Cavalli, Hugo Boss and Calvin Klein. "Roberto Cavalli is available only in a few select stores, Versace is the most popular among women," says Ramesh, an optical storeowner.
So what are you waiting for, the new range of sunglasses cater to all kinds of looks ó the demure to the drop-dead gorgeous appearance. ó MF