SIKHS IN MEXICO
Sikhism and yoga have found a new home in Mexico, reports Ajit Jain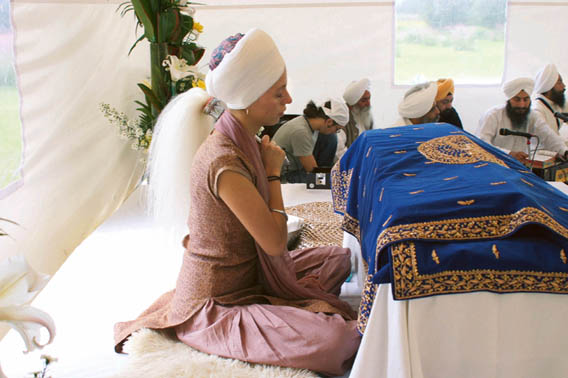 IF you visit the Shunia Yoga Life centre in the swank Polanco district of Mexico City, don't let the owner's name, Jai Hari Singh, mislead you. He is Francois Valuet, a French national who has lived in Mexico City for over 30 years, converted to Sikhism and changed his name.
Why? "It (Sikhism) is a way of life. More than anything else, it teaches discipline in life. It is based on the simple belief of one god. And god is inside you," Jai Hari answers. "When there's one god Khalsa, when you live on simple beliefs, you begin to see a lot of things that make life enjoyable."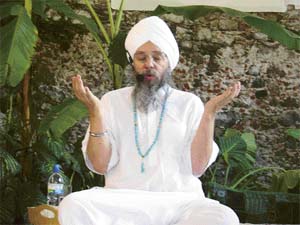 Jai Hari Singh teaching yoga in his yoga centre in Mexico City and (below) his daughter Ananda Kaur with her German-Sikh husband Amrit Singh, who converted to Sikhism eight years ago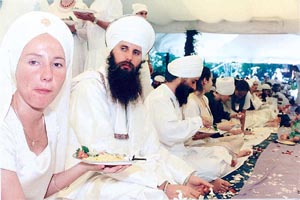 The change in his religious and social thinking came slowly after he started learning yoga from Harbhajan Singh Khalsa — better known as Yogi Bhajan — a renowned Sikh yoga teacher who came to America in the late 1960s and who died in October 2004. Like his teachers, Jai Hari teaches Kundalini yoga. "After I started practicing Kundalini yoga, my life changed a lot. I became healthier, I was able to control my emotions and my family life became better," he says. "I became a vegetarian. I stopped drinking and smoking."
There is only one gurdwara in Mexico City. And Arjan Singh, an Indian and a granthi from India, who came to Mexico City in 1976, looks after it. He is also a Yogi Bhajan disciple, and runs a yoga centre. "There's reference to Kundalini yoga in Gurbani," says Arjan. The students at his centre start sadhana (prayer) at four in the morning. "We teach devotion, meditation. Kundalini yoga gives you strength of mind and body. We can control strength through devotion."
He says there are about 50 yoga centres in Mexico and a number of people have converted to Sikhism. Jai Hari and Arjan are married to Mexican women, who are also Sikhs. The women wear white turbans. Arjan Singh's 20-year-old son also practices Sikhism and after spending four years India is now back in Mexico.
Jai Hari, who is married to Jai Hari Kaur (birth name: Blanca Rosa Hernandez) says his three daughters — Ananda, 26, Prabhu Atma, 24, and Kirtan, 17 — have adopted Sikhism too. Ananda is married to a German who became Sikh too. They live in Amritsar, India.
He calls himself Amrit Singh and is the director of the Miri Piri Academy, an American high school in Amritsar. They also teach yoga and meditation. In a phone interview with this reporter from Amritsar, Amrit says, "I used to drink alcohol, smoke cigarettes and take drugs. I was polluting my body. Under the influence of Kundalini yoga, during which we use lot of mantras like Sat Namm etc, I got more interested in the Sikh dharma. I started wearing a turban and a kirpan just to try it out. I liked the effect on my whole system, my whole body. I like doing it. At one point I realised, 'Oh look, I am a Sikh now' and that was unconsciously."
Amrit is now vegetarian. He doesn't drink alcohol, he doesn't smoke or do drugs anymore. He believes he is much happier. Amrit said he hasn't officially announced that he is Sikh but his lifestyle is Sikh. "Sikh dharma is not a religion but a lifestyle that anybody can adopt. For me, it is a way to live your life. It is not like a dead religion from the book. Just read the book and this is what you have to do."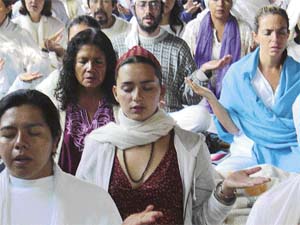 Jai Hari Singh's Kundalini Yoga Center is becoming popular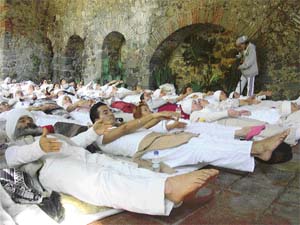 A yoga class in progress under the guidance of Jai Hari Singh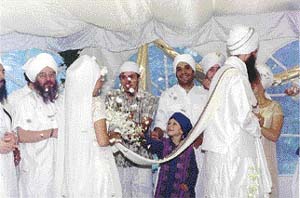 Amrit Singh and Ananda Kaur are directors of Miri Piri Academy, a school in Amritsar where they are now living
Amrit and Jai Hari are not the only examples of Mexicans who are embracing Sikhism. There is Gurdev Singh, another Mexican who became Sikh. He teaches yoga and is a minister. He now lives in Houston with his wife Sat Kaur (formerly Dianne Noriega). In a phone interview from Houston, he says one of his sisters — Virginia Ramos — is also Sikh and calls herself Guru Kiran Kaur. "She became Sikh when she was only six years old," he says about his sister.
And then there is Alfonso Salmeron, 63, who incidentally also calls himself Arjan Singh. His wife Ram Kaur (Alicia Rozado) influenced him to embrace Sikhism and he started taking yoga classes. They have five daughters and two sons. All five daughters are vegetarian. One of them has become Sikh too. "My two boys are also almost vegetarians but they do eat meat once a while," says Salmeron in Spanish; he hardly speaks any English. He's the Mexican Sikh community's director on their inter-religious faith group and in that capacity he interacts with the local Catholic church, the Anglican church, the church of Jehovah's Witness and the synagogue. He has met the Dalai Lama and several other religious leaders. To him Sikh dharma "is an experience, to live united with everybody. (It teaches one) not to judge others, to have a disposition to serve and help others."
Why should Mexicans, a predominantly Catholic people, convert to Sikhism?
"The new generation doesn't accept religion simply because it is a tradition. They want a rational explanation of everything. They know about yoga. They have heard about meditation and devotion," feels Arjan Singh, the Indian granthi.
"They don't convert to Sikhism just like that; it is a slow process. In the first phase, some people become vegetarians. They start reciting the Gurbani but don't wear turban or grow beards. Some people slowly stop cutting their hair and wear turbans. Some people can take up to 10 years in this process, while some change quickly," he adds. "We tell them about Guru Nanak Dev's definition of the conscious state of human beings, which can put them in touch with God."
"Being a Sikh I really found myself being connected to the higher being...I find that the Sikh dharma is based on very true and very real inner reality, which is very real to me and being Catholic is not real to me," argues Amrit Singh from Amritsar.
"I love being a Sikh," says Guru Dev Singh. "The teachings of the Guru Granth Sahib are very universal, very non-fanatical. It has a simple message. The Guru Granth Sahib only guides us to meditate. (With meditation) your life becomes more focused and you are able to look into your soul. All the happiness comes out of that. Yes, I am a much happier person now." And does he still go to church? "I go to the gurdwara. No, I don't go to the church.
Jai Hari Singh feels the Sikh dharma is a way of life. "It teaches discipline in life more than anything else. It is based on a very simple belief of one God and that God is inside you," he says. "When there's one God Khalsa, his name is truth. When you live on simple beliefs, you begin to see a lot of things that makes life enjoyable. You have to be disciplined to enjoy the benefits of all what Sikh dharma stands for, more than the actual practice of religion.
"Through the practice of Kundalini yoga, slowly I became a healthier person and that attracted me, influenced my thinking because it was an experience. Your life itself is an experience."
Salemeron agrees. "I was a Catholic because I was born in a Catholic family. At one time I felt that was not enough for me. I met a person who invited me to yoga classes and that person became my wife. I started attending yoga classes and I wanted to know more and more. Finally, I studied and have become a yoga teacher. I am now a Sikh minister. My concept of life has changed. I enjoy better health. I have a better disposition. I am more assertive and able to take quick decisions."
Surinder Singh Gill, India's Ambassdor to Mexico, says Jai Hari is converting many Mexicans to Sikhism. Jai Hari, however, is averse to using the word conversion — he says it has negative connotations. "I am not here to convert anybody. We teach Kundalini yoga and discipline in life so that people can lead a healthier and happier life," Jai Hari says.
How does he describe discipline?
"You have to make meditation, yoga and prayers everyday practices. The rest follows on its own."
Jai Hari's centre has a memorandum of understanding with the University of Guadalajara, Mexico, and the Kundalini Research Institute, California. Of the 130 students at his centre, 5 per cent may adopt the Khalsa way of life, adds Jai Hari.
"Yogi Bhajan told us there are a lot of different paths to have a good life. But I found my home in Kundalini yoga, as taught by Yogi Bhajan, and in Sikh dharma. I learnt to be a better person, to help other people to serve humanity."
He says Mexicans and Indians are culturally similar. Both eat roti, both eat hot sauce and chilly. Mexico is an openhearted country whose people are very devotional, says Jai Hari.
One of Jai Hari's two brothers is a Catholic priest in France and the other has become a follower of the Dalai Lama. "I am not here to convert anybody," Jai Hari repeats. "I don't mind if there are many Sikhs here or a few." Arjan says the difference between Sikhism and Catholicism is that Catholics believe in sins.
"The word sin doesn't exist in Sikhism. God is neither happy, nor sad. God is not angry with us. Even among the Sikhs, we sometimes try to create the fear of God. We shouldn't be afraid
of God."
Ambassador Gill says of the 150 Indian families living in Mexico, a majority are Sikhs. He says a lot of Mexicans are converting to Sikhism and adopting the philosophy of a simple life and truthfulness. "I am amazed when I see Mexican men and women singing Gurbani with guitars. There's great fascination for Indian culture here."
Gill says "possibly India's distance brings a fascination for Mexicans. What comes across is Indian spirituality and very often when I meet people from all walks of life, they talk about a guru, someone they can relate to..." Gill believes there is some kind of mysticism attached to the word 'guru'.
"I have gone to some Mexican homes and some of them will show you photos saying 'here's my Guru in Madras,' etc."
Courtsey: India Abroad, Toronto.