PUNJAB

HARYANA

JAMMU & KASHMIR

HIMACHAL

REGIONAL BRIEFS

NATION

OPINIONS

MAILBAG

BUSINESS

SPORTS

WORLD
Tuesday, May 17, 2005, Chandigarh, India
Updated at 3:00 am (IST)

CWC pats Sonia, Manmohan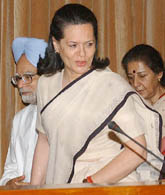 New Delhi, May 16
The meeting of the Congress Working Committee (CWC) today glossed over all contentious issues and instead concentrated on congratulating itself on the successful completion of the UPA government's one year in office.

Prime Minister Manmohan Singh and Congress President Sonia Gandhi at the Congress Working Committee meeting at Parliament annexe in New Delhi on Monday. — PTI photo

Unhappy with govt, CPM to launch stir
New Delhi, May 16
In a strong appraisal of the performance of the UPA government, the CPM categorically stated that it was not content with talks and would mobilise people to force the government to implement the common minimum programme.
CAST YOUR VOTE
Should free power be given to those with farms under seven acres?


FORUM

EDUCATION

JOBS & CAREERS

HEALTH & FITNESS

SCIENCE & TECHNOLOGY

SPORTS

SOCIETY

TRIBUNE CLASSIFIEDS

BRIDES WANTED

GROOMS WANTED

OTHERS

HOW TO PLACE ADVTS


Left leaders meet Chidambaram on petroleum price issue
New Delhi, May 16
At a time when the UPA government is congratulating itself on the completion of one year in power, leaders of the Left Parties today met Finance Minister P. Chidambaram and Petroleum Minister Mani Shankar Aiyar to build up pressure on the government not to hike petrol and diesel prices.


Attempt to undermine poll panel, says Tandon

New Delhi, May 16
The 1965 batch IAS officer of Himachal Pradesh Cadre, Mr B B Tandon, today took over as the 14th Chief Election Commissioner of the country, along with Information and Broadcasting Secretary Naveen Chawla as one of the Commissioners in the three-member poll panel. In video (28k, 56k)



B.B. Tandon
In Education Tribune today
QUOTE OF THE DAY
A fundamental concern of the CPM is that hardly any legislation which addresses the needs of the vast majority of the poorer sections of our country has been moved in Parliament in this one year by the UPA government.
— Prakash Karat
THE TRIBUNE MAGAZINES
On Sundays

On Saturdays

5 get life term in '84 riot cases
New Delhi, May 16
Five accused in the 1984 riot cases have been sentenced to life imprisonment by a Delhi court today for burning a man to death during the riots occurred following the assassination of the then Prime Minister, Indira Gandhi.
CBSE Class XII result on May 23
New Delhi, May 16
The CBSE will announce the result of Class XII examinations on May 23. The result will be posted by noon to all six regions, including Allahabad, Chandigarh, Ajmer, Chennai, Guwahati and Delhi.
Centre to buy Dabhol plant, says Sharad Pawar
Mumbai, May 16
The Central Government has decided to purchase the Dabhol Power Project (DPP) shortly and the plant will start generating electricity within three months of the takeover, Union Agriculture Minister Sharad Pawar told reporters in Kolhapur town, 225 kms from here, yesterday.
India backs Nepalese parties on restoring democracy
New Delhi, May 16
India today threw its weight behind Nepalese political parties by welcoming the coming together of seven of them and forming a joint front to strive for the restoration of multi-party democracy in the Hindu Kingdom.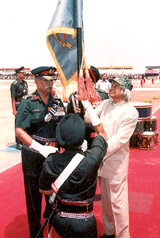 Equip tanks with electronic systems: Kalam
Bathinda, May 16
President Dr A.P.J. Abdul Kalam today recommended equipping battle tanks with electronic warfare systems, secured communication systems, higher mobility and night fighting potential, to provide force multiplication for Armoured Corps.

President Dr A.P.J. Abdul Kalam presents the Standard to 68 Armoured Regiment in Bathinda on Monday. — Tribune Photo by Kulbir Beera

Punjab to promote religious tourism
May 16, 2005

Opposition is fine, but be responsible: Sonia
May 15, 2005
Phukan report rejected
May 14, 2005
Blast outside school leaves 2 dead, 52 hurt
May 13, 2005
Sonia lambasts BJP for boycott
May 12, 2005
SC stay on Bhakra, Beas projects
May 11, 2005
EC takes Chhapra to Kalam
May 10, 2005
India not to insist on veto power
May 9, 2005
Two ECs must quit, says Lalu
May 8, 2005
CAG raps NDA govt
May 7, 2005
PM puts Opposition on the mat
May 6, 2005